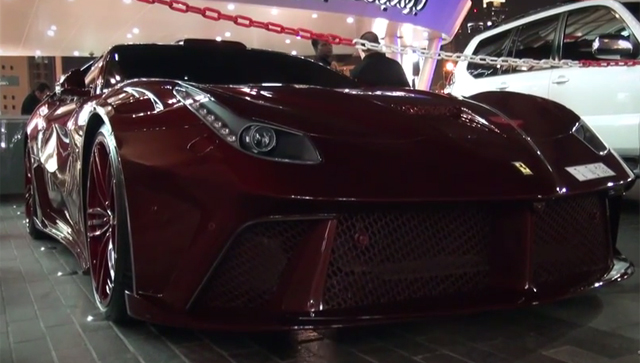 Unveiled at the Frankfurt Motor Show in 2013, it is believed that just one example of the Mansory F12 La Revoluzione has been created and that car was recently filmed on the streets of Dubai. As you could imagine, the heavily upgraded Ferrari F12 Berlinetta really sent heads spinning!
[youtube]https://www.youtube.com/watch?v=RWH6tN8e6Ug#t=28[/youtube]
The Mansory F12 La Revoluzione is naturally the most exclusive Ferrari F12 Berlinetta on the market. The body panels are constructed from carbon fibre, baked in Mansory's own autoclaves. Mansory describes the front bumper as being an 'inverse formula one nose' with a variety of different vents to increase air flow into the front mounted engine. The F12 La Revoluzione also gets a redesigned rear with a set of quad tail pipes mounted on either side.
The headline figures amount to something quite staggering. The engineering department at Mansory have developed a range of upgrades including new software for the central electronic control unit, a set of larger turbochargers, and a brand new exhaust system designed for minimal back pressure. Together, the upgrade package pushes the 6.3 litre V12 up to a staggering 1,200 hp with a maximum torque of 890 Nm. 0-100km/h takes just 2.9 seconds and the La Revoluzione rockets to a maximum speed of 370 km/h.