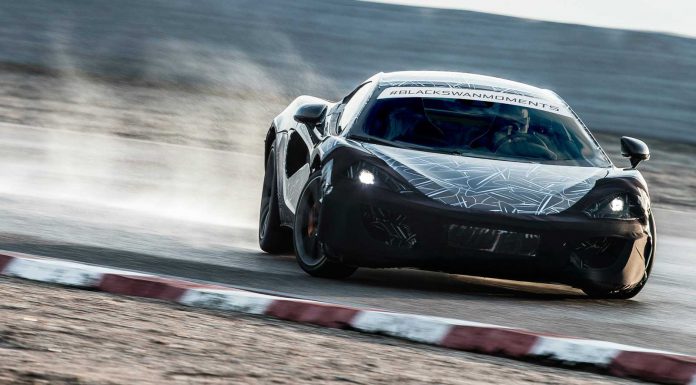 McLaren just revealed the last in a series of teasers of their upcoming Porsche 911 competitor, the long awaited P13 officially called the McLaren Sports Series. As this image is all we got from the people at McLaren today, details remain scarce. As rear-wheel drive mid-engined V8 it can clearly show some drifts and if our experiences with the 12C, 650S and P1 are anything to go by, we can expect another fun McLaren next year!
What we do know is that the McLaren Sport Series will sit below the McLaren 650S and according to previous reports, rival the likes of the Porsche 911 Turbo, Nissan GT-R and Mercedes-AMG GT. Additionally, the firm recently confirmed what we already knew; it will feature a carbon fibre monocoque as well as a mid-mounted V8 expected to be very similar to the 650S' powertrain. Power is said to be derived from McLaren's 3.8 liter twin-turbo V8 and deliver around 500hp.
The McLaren Sports Series will be a range of vehicles and is expected to include a coupe, convertible and track-focused variant with each set to receive their own individualised names. As much as we like the looks of the concept with the traditional McLaren butterfly doors, we are not a fan of the name.
Today also marks the start of the #BlackSwanMoments on McLaren's official website and social media channels. Stay tuned for more information and teasers leading up to the McLaren Sports Series official unveil. The McLaren Sports Series is confirmed to celebrate its world debut at the New York Auto Show 2015.