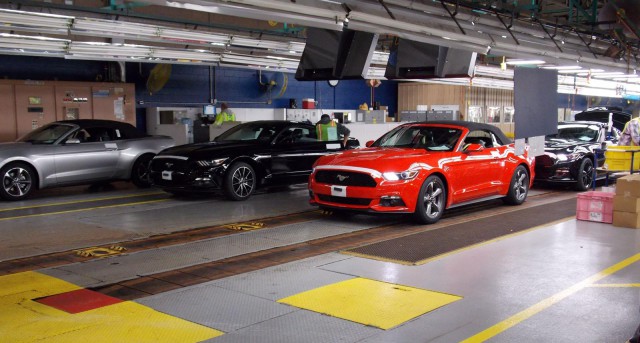 Production of the 2015 Ford Mustang Convertible has recently kicked off with dealership deliveries of the drop-top Mustang variant set to commence during the week.
Deliveries of the Mustang Convertible coincide with the start of winter in the Northern Hemisphere and in a press release announcing the start of production, the American marque says, "Cold weather may have come unseasonably early this year, but with available heated seats, remote start and selectable drive modes with a snow/wet setting, Mustang is the perfect offering for the season."
With the exception of the fixed roof being ditched in favour of a removable fabric roof, the 2015 Mustang Convertible is the same as the Mustang fastback meaning it is available in the same three core specifications. These are the entry-level 3.7-litre V6 with 300 hp and 280 lb-ft of torque on tap, the mid-range 2.3-litre EcoBoost four-cylinder turbocharged unit with 310 hp and 320 lb-ft while the 5.0-litre V8 powered Mustang Convertible delivers 435 hp and 400 lb-ft.