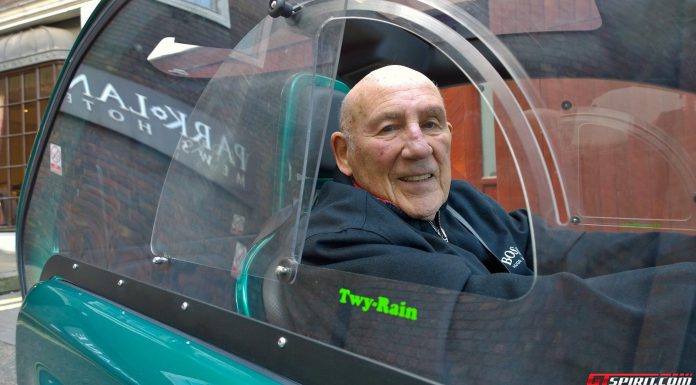 When one of the greatest racing legends asks you to enhance his car's handling, and the combination is Sir Stirling Moss and his new Renault Twizy electric city car, it was a fun engineering challenge grabbed with alacrity by the experts at Bilstein.
Sir Stirling called the suspension experts, better known for after-market street car upgrades as well as competition machines, to ask if they could personalise and improve the handling of his beloved Renault Twizy with its distinctive number plate SM 7.
He was renewing a long family connection, for his late sister Pat Moss-Carlsson, one of the world's greatest women rally drivers, used Bilsteins.
The Twizy is able octogenarian Sir Stirling's favourite form of transport around London's bustling streets and – renowned for 'green' motoring in the capital with previous modes from a scooter to one of the first Smart cars and more recently the Aston Martin Cygnet – he still wanted to be able to show a clean pair of (w)heels to anything in the congestion zone's corners, while he and wife Susie could enjoy exceptional ride quality and comfort in the nifty two-seater finished in a special shade of green.
For once he didn't want hard sporty suspension but a more pliant ride. Sir Stirling said, "The Twizy handles well with these new changes. Really well! It's now ideal in town and softened up enough not to shake me to pieces. Around town the new suspension offers enormous advantages. In my view, Bilstein dampers are as good as they get.
The legend also said, "I remember having them on my race cars way back, but I also remember my sister using Bilstein extensively in her driving career because the company was so highly regarded in rallying."
The upgrade is all bread-and-butter to the Bilstein UK R&D team who design, develop and engineer bespoke solutions for government, defence and motor sport applications on a daily basis. Working with technical partner Eibach, a set of custom ERS springs was also fitted to give the compact EV the kind of handling prowess that befits a multiple GP winner.
Richard Anderson, Bilstein UK's general manager, said, "It's certainly one of the smallest and lightest cars our team has worked on, but with our friends at Eibach, it was a relatively straightforward exercise to enhance the dampers' operation and rate to create a car that offered both enhanced ride and comfort."