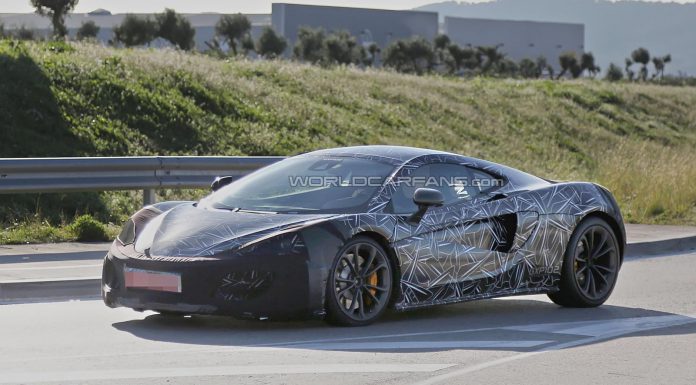 McLaren may have teased a couple of photos of its new Sports Series model set to debut next year, but now a prototype has been spied in full under surprisingly little camouflage. Set to sit below the 650S and act as McLaren's rival to the Porsche 911 Turbo, Nissan GT-R and Mercedes-AMG GT, the Sports Series will be available in a selection of variants with this particular test mule being the coupe.
When compared to the existing McLaren 650S and P1, the Sports Series is identifiably smaller with shorter overhangs and what appears to be a shorter wheel base. Elsewhere, the side profile has been completely redesigned to current McLaren models with a much smaller side air intake than featured on the 650S and before that, on the 12C.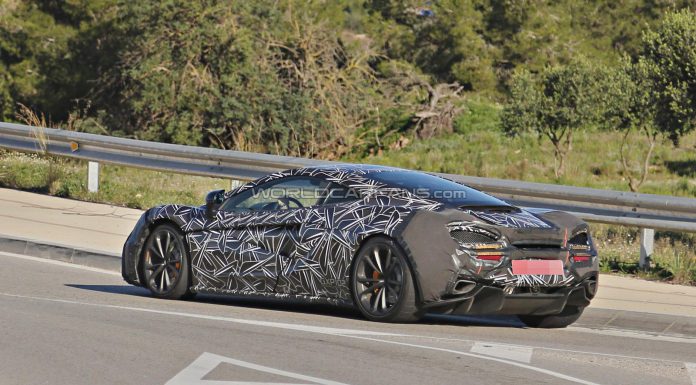 Elsewhere, the bonnet tapers down aggressively to the all-new bumper and while it is impossible to accurately determine its intricacies, it clearly features a different design to the 650S. From the rear, the McLaren Sports Series draws on inspiration from the range-topping P1 with an ultra-aggressive rear diffuser as well as similar rear air vents to the P1 indicating that slimlined LED taillights like the P1 could also be featured.
Powering the McLaren Sports Series will be the firm's existing mid-mounted V8 engine set to displace the same 3.8-litres and feature two turbochargers. Compared to the 650S and P1 however, it will be detuned to the 500 hp region. Elsewhere, we know it will utilise a carbon fibre monocoque.
[Via World Car Fans]