The third generation Audi TT was only released at the Geneva Motor Show 2014 in early March but tuning company B&B has already got its hands on the potent German sports car and released some very impressive power upgrades for it.
B&B has tweaked the 2.0-litre TFSI engine of the Audi TT which typically delivers 230 hp and 370 Nm of torque. The Stage 1 B&B kit sees power increased to an impressive 300 hp and 420 Nm of torque by changing the turbo pressure and adjusting the electronic injection parametres. The B&B Stage 1S package is also available which adds an extra 10 hp and 15 Nm.
As for the Stage 2 kit from B&B, it has lifted by up to 326 hp and 450 Nm of torque thanks to the fitment of a larger B&B exhaust system complete with a sport catalyser. Finally comes the Stage 3 kit. It is priced from 9950 euros and helps bump power to 360 hp and 500 Nm of torque through the installation of a new turbocharger, a new air intake system, B&B exhaust and some ECU upgrades.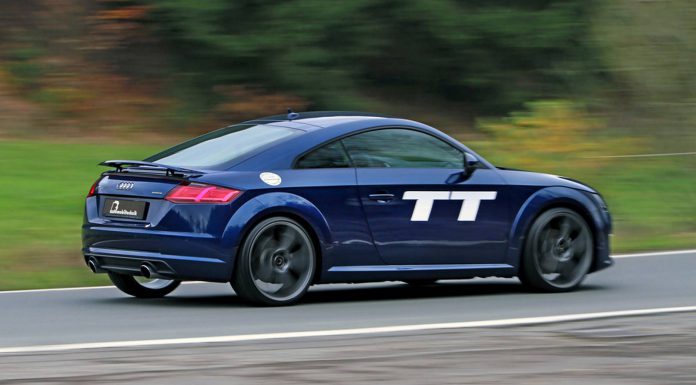 Elsewhere, B&B offers a set of lowered springs for the third-gen Audi TT which reduce the ride height by 30 mm at the front and 25 mm at the rear. New 20 inch wheels are also available alongside a beefed up suspension system including 6 piston calipers at the front and 4 piston calipers at the rear.