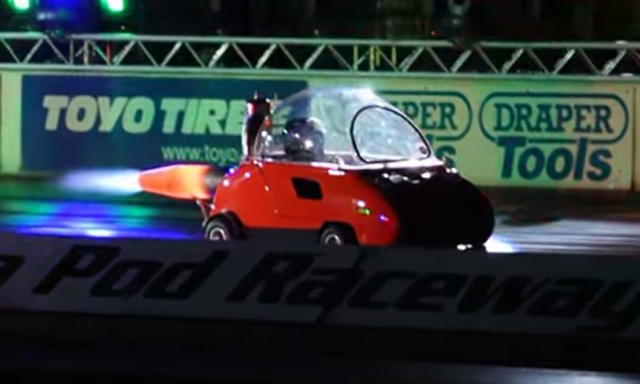 Perhaps best known to many of us courtesy of Top Gear and their famous test of the Peel P50, the now-defunct automaker from the Isle of Man also produced the Peel Trident for a year. Slightly larger than the P50 but with a complete clear bubble roof, the Trident weighed a mere 90 kg and was powered by a 49 cc engine.
In the end, it is believed that just 45 examples were ever produced and now we know what has happened to one of them. One very brave owner recently fitted this red Peel Trident with a jet engine and hit the Santa Pod Raceway in the unique creation.
[youtube]https://www.youtube.com/watch?v=YlsCHmNbo-U[/youtube]
While you may think a jet powered car weighing less than 100 kg would absolutely fly down the drag strip, the small jet engine is only capable of powering the Trident to a 23 second quarter mile. Impressively however, the car hits 125 km/h (78 mph) by the end which we can only imagine would be terrifying in such a small car!