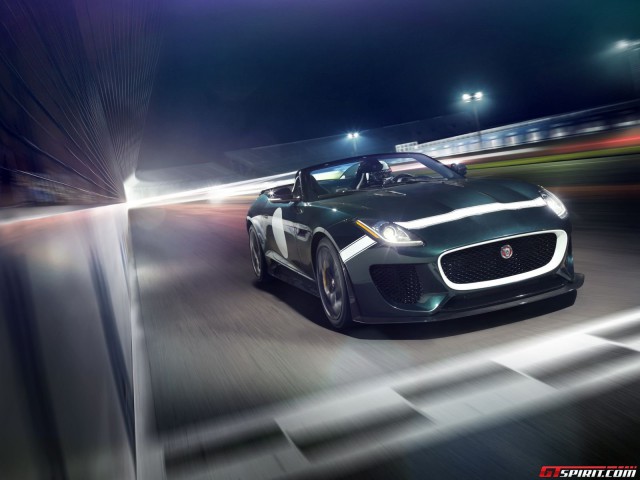 Evo Magazine founder Harry Metcalfe has just launched his new YouTube channel 'Harry's Garage' and in the most recent video, takes an in-depth look at the brand new Jaguar F-Type Project 7. While the car is indeed a show car, Harry does get the chance to get behind the wheel of the potent British sports car.
[youtube]https://www.youtube.com/watch?v=9v_s8l93NmA#t=630[/youtube]
The Jaguar F-Type Project 7 represents the most performance-focused derivative of the acclaimed F-Type range and will be the most performance focused Jaguar on sale. With 567 bhp and 680 Nm being produced from its 5.0 litre supercharged V8, the fully road-legal racer will hit 100km/h in 3.9 seconds and will keep pulling to a top speed of 300 km/h, only stopped by an electronic limiter.
The Jaguar F-Type Project 7 features an all-aluminium body and as a result the car weighs 80 kilograms less than the standard V8 convertible at 1585 kilograms. Power in fed to the rear wheels, which we are sure can burn rubber to the drivers hearts content, via an eight-speed Quickshift transmission and a second generation Electronic Active Differential (EAD) that first debuted on the R Coupe.
To help stop this topless racer, to which a roof panel can be fitted, Jaguar have opted to have carbon ceramic brakes fitted as standard on the Project 7 car, something that was an option on the R Coupe. Another standard feature is Torque Vectoring by Braking (TVbB) which when combined with EAD dramatically aids the cars handling characteristics.