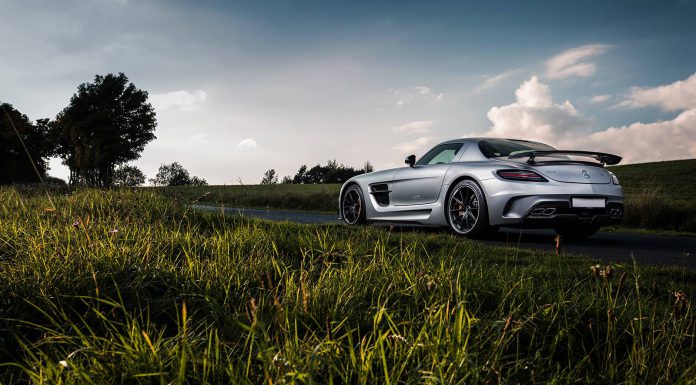 While the 2015 Mercedes-AMG GT promises to be an even better car to drive than the SLS AMG which it replaces, no Black Series variant has been confirmed for production yet. As a result, if you're in the market for one of the most badass front-engined, European sports cars created in recent years, the Mercedes-Benz SLS AMG Black Series is still the place to go.
The following silver example was recently snapped by Dennis Noten in the small German town of Nürburg and thanks to the wonderful composition of the picture, just had to be our latest Photo Of The Day!
When compared to the standard car, the technical improvements for the engine in the new Black Series package include custom-built camshafts, new air intakes, and improved oil and water cooling. The 6.2 liter V8 engine consequently delivers an impressive 635 hp and 635 Nm of maximum torque. Its redline has been moved from 7200 rpm to 8000 rpm.
Thanks to the extra performance and faster gear shift times the Black Series goes from zero to 100 km/h in 3.6 seconds, which is two tenths faster than its 571 hp-strong brother. In terms of top speed, the SLS AMG BS reaches 315, instead of 317 km/h for the SLS AMG GT. This is mainly due to the newly fitted rear wing and changed aero package.