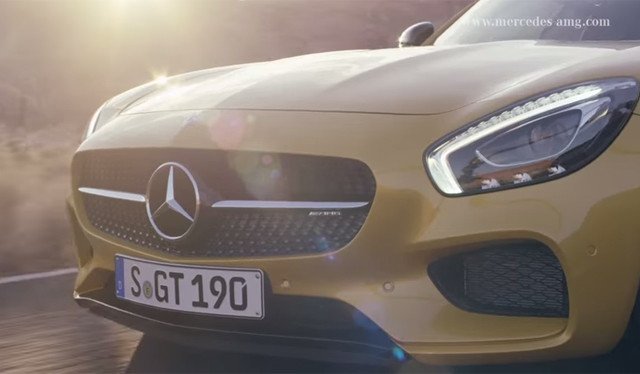 At this week's Paris Motor Show 2014, we'll get the chance to see the 2015 Mercedes-AMG GT and GT S in the flesh for the first time. Prior to the car's public debut, Mercedes-Benz has dropped the following walk around video of the car highlighting its most crucial aspects from the engine, interior and its exterior design.
[youtube]https://www.youtube.com/watch?v=8MPt35LWS4E#t=88[/youtube]
The GT is the second sports car developed entirely in-house by Mercedes-AMG (the SLS AMG being the first). It gets a front mid-engine layout. The engine of choice is a newly developed AMG 4.0-litre V8 biturbo unit with 462 hp in GT specification. A GT S model will also be available producing 510 hp. The engine meets the Euro 6 emissions standard, including the maximum particulate emissions level that takes effect in 2016.
Zero to 100 km/h is possible in 3.8 seconds with a top speed of 310 km/h. The V8 is particularly ground breaking for its use of dry sump lubrication and its integrally mounted turbochargers. The transmission is a seven-speed dual clutch unit fettled by AMG engineers.
Weight is just 1,540 kilograms and weight distribution is spread 47:53 percent, front to rear. The power-to-weight ratio of 3.3 kilograms per hp sounds pretty impressive for a car of this class. The GT also manages fuel consumption of 9.3 litres per 100 kilometres (NEDC combined).
The driver can adjust the drivetrain dynamics of the GT using the AMG DYNAMIC SELECT. Modes include: "C" (Controlled Efficiency), "S" (Sport), "S+" (Sport Plus) and a new "I" (Individual) mode. The manual "RACE" drive program reserved exclusively for the GT S matches the dual clutch transmission to the needs of racetrack usage . A further "M" button allows the driver to activate the manual transmission mode in any drive mode.