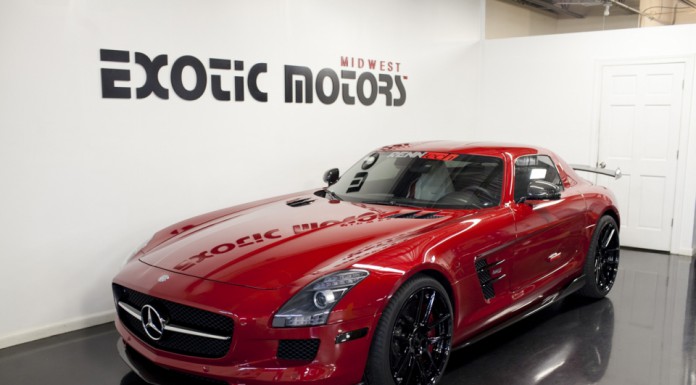 A potent red Mercedes-Benz SLS AMG thoroughly upgraded by Renntech is currently up for sale in the U.S. courtesy of Exotic Motors Midwest.
In typical guise, the SLS AMG delivers 563 hp thanks to its brutal naturally-aspirated 6.2-litre V8 engine. However, Renntech has managed to push this figure up to 635 hp and 540 lb-ft of torque. The additional strength comes courtesy of new headers, an all-titanium exhaust system as well as a new ECU, revised ignition timing and tweaked throttle mapping.
All up, the Renntech modifications total over $80,000. This particular SLS AMG is also one of the most expensive examples produced from the factory because it is extensively optioned with the likes of carbon ceramic brakes, carbon fibre interior trim valued at $9000 as well as new sports suspension.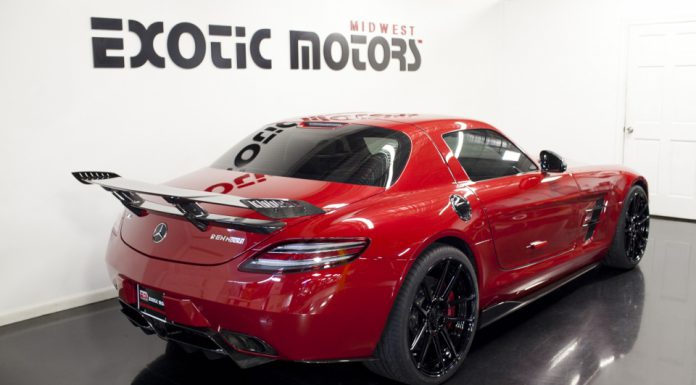 Elsewhere, this SLS features a set of three piece forged ADV.1 wheels measuring 20×10 at the front and 21×12 at the rear. It is also wearing a large carbon fibre adjustable rear wing and a new rear diffuser.