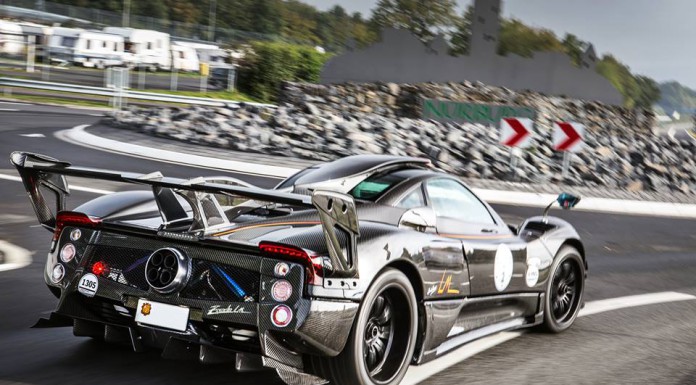 With just one example produced, the Pagani Zonda 760 LM truly is as rare as a car can get. Despite its rarity, the car's owner recently brought the priceless Italian supercar to the Nurburgring for some hot laps. Flanked by a Porsche 918 Spyder and Lamborghini Gallardo LP560-4 Performante, the Zonda 760 LM put on a real show!
Following on from the likes of the Zonda 760RS, 760LH, 764 Passione and 760 Fantasma, the 760 LM is undeniably the most eye-catching road-going Zonda produced to date. Alongside this central fin of all 760 series Zondas, the car includes a prominent roof scoop, massive rear diffuser and most noteworthy is the massive rear wing with huge end plates at either side.
[youtube]http://www.youtube.com/watch?v=hETbNX2_AyU&[/youtube]
Up front, the changes continue. Gone are the exposed headlights and in their place are swollen front wheel arches as well as clear plastic covering the headlights like a traditional car. Inevitably, this design change does improve the aerodynamics of the car. Additionally, the hood of the car incorporates two prominent air ducts unlike other road-going Zondas and instead like the race-track only Zonda R. The visual changes are completed with LM decals on the sides, brake calipers finished in the Italian flag and a bare carbon fibre body.
The owner of the new Pagani Zonda 760 LM reportedly owns many other Zondas including a Cinque Roadster and Zonda R.