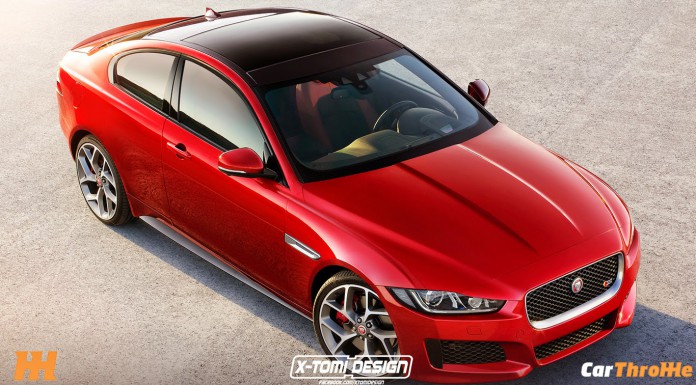 It recently emerged that additional body styles of the Jaguar XE are likely with a Sportbrake model quite possibly the first. Another potential XE variant which Jaguar could create would be a three-door coupe and X-Tomi Design has rendered just that.
While Jaguar has understandably yet to comment on the possibility of a Jaguar XE coupe being created, it is certainly quite possible. After all, the XE only really rivals the 2014 BMW M3 at this point and soon the next-generation C63 AMG. However, the M4 Coupe is also available with a C63 AMG Coupe already in the works so the potential for a high-performance XE coupe is certainly there.
For the time being, the top of the range Jaguar XE S gets the 340 hp supercharged 3.0 litre V6, an engine we drove quite extensively in the F-Type V6. A torque figure of 450Nm allows a 0-60 mph time of 4.9 seconds and an electronically limited top speed of 155 mph. Both figures make the XE S an impressive proposition!
Jaguar will fit the new 2.0 litre diesel engine from their "Ingenium" range to a number of models lower down in the XE range. Emissions are 99g/km and 75 mpg economy which will obviously appeal to the company car market. Customers will also be intrigued by the Ingenium diesel engines ability to achieve 21,000 mile or two year service intervals.
The XE S gets the eight-speed ZF gearbox modern Jaguar and Land Rover enthusiasts have come to expect. A four-cylinder 2.0 litre petrol model will also hit show rooms. It, and the Ingenium engined XE, will get a choice of either a trusty 6-speed manual or the 8-speed ZF automatic transmission.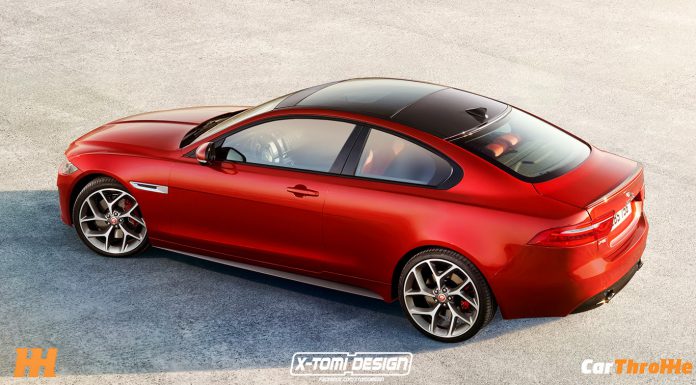 A picture paints a thousand words so you probably don't need us to explain the design in too much detail. Needless to say, the XE is characterised by a short front overhang and a longer rear overhang. The front of the car conforms with the design philosophy of the rest of the range with a muscular bonnet and familiar daytime running lights. The central design line rises through to the rear quarters and the rear lighting is typical of Jaguar with the horizontal rear light design harking back to Jaguar's heritage.
[Via X-Tomi Design]