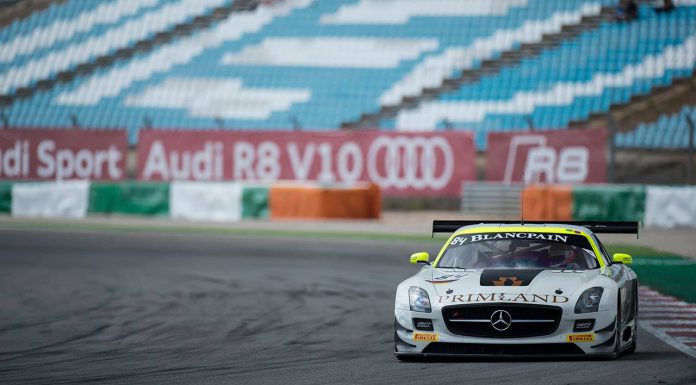 The Blancpain Sprint Series was in action in Portugal this past weekend at the Portimao circuit. The race turned out to be a thriller with Mercedes taking the win while the Lamborghini teams impressed with two cars finishing in the top five. Maximilian Götz and Maximilian Buhk drove their No.84 HTP Motorsports Mercedes SLS AMG GT3 to victory, thanks to the effort put by Gotz in the early laps.
Gotz managed to pass pole sitter Hari Proczyk in the No.28 Grasser Racing Team Lamborghini and never looked back. A safety car intervention allowed Gotz to build a bigger gap straying away from the pack behind him. Behind him there was a stiff fight for second place between the No.28 Lamborghini of Proczyk and Laurens Vanthoor in the No.1 Belgian Audi Club Team WRT Audi.
The Audi was able to close in fast on the Lamborghini and pulled out a quick move on the final corner to overtake Proczyk. Unfortunately, Vanthoor was penalized for not obeying track limits and given a 30-second penalty that made him lose his second place. The No.28 Lamborghini therefore assumed second place with the No.9 Belgian Audi Club Team WRT Audi finishing in third. G-drive Racing Lamborghini of Roman Rusinov and Tomas Enge finished in fourth while Total 24 Hours of Spa-winners René Rast and Markus Winkelhock finished fifth in the No.2 Audi.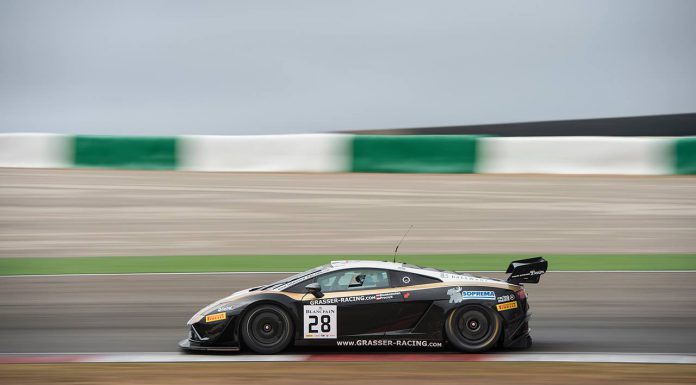 In the Pro-AM class, the win went to Marc Basseng and Alessandro Latif in the Phienix Racing Audi. The team of David Fumanelli and Stefano Colombo took the win in the Silver Cup class piloting the Roal Motorsport BMW Z4.
Blancpain Endurance Series resumes action with the Nurburgring 1000 race on September 19 while the Sprint Series will be back in action at the Zolder circuit in Belgium on October 19.
Top 10
1 #84 Götz/Buhk – HTP Motorsport Mercedes 33 laps
2 #28 Proczyk/Bleekemolen – GRT Grasser Racing Team Lamborghini +11.576
3 #9 Hamprecht/Ortelli – Belgian Audi Club Team WRT +23.435
4 #3 Rusinov/Enge – G-Drive Racing Lamborghini +23.753
5 #2 Ide/Rast – Belgian Audi Club Team WRT +26.407
6 #6 Mayr-Melnhof/Winkelhock – Phoenix Racing Audi +30.600
7 #5 Basseng/Latif – Phoenix Racing Audi – first Pro-Am Cup +39.331
8 #1 Ramos/Vanthoor – Belgian Audi Club Team WRT +40.332
9 #33 Zanardi – Roal Motorsport BMW +40.788
10 #60 Onidi/Pantano – Bhaitech McLaren +43.264
…
15 #34 Fumanelli/Colombo – Roal Motorsport BMW – first Silver Cup +1:05.421
Watch Full Race:
[youtube]http://www.youtube.com/watch?v=IDClVlwWmxs[/youtube]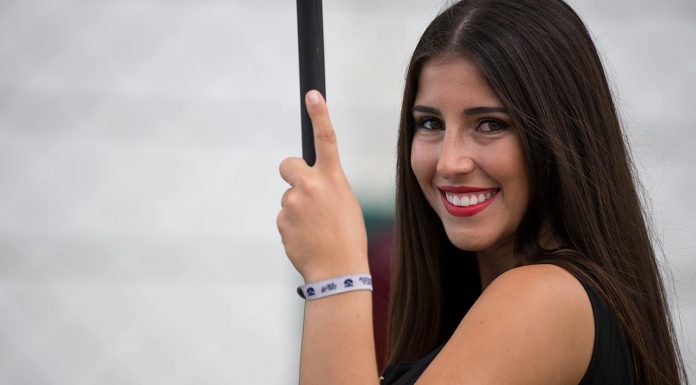 Driver Quotes:
Maximilian Götz (#84 HTP Motorsport Mercedes): "It was very important that I overtook Hari as quickly as possible, because I started the race on new tyres and I wanted to take as much advantage as possible on them. Scoring a win here is important, because I don't think we will be at the front in Zolder and nobody knows what Baku will bring."
Jeroen Bleekemolen (#28 Grasser Racing Team Lamborghini): "I am aware that there were some discussions about track limits after the race, but I am happy with the outcome! I have to apologize to the race director for speaking bad about him on TV for not taking action, because he did take action. Also I have to say that Laurens made a great pass and is a great guy to race against."
David Fumanelli (#34 ROAL Motorsport BMW, 1st Silver Cup): "It's unfortunate that Stefano hit mechanical trouble during his stint, because we could have finished a lot higher up overall. Still, we win the Silver Cup and close the gap in the Series' standings."
Alessandro Latif (#6 Phoenix Racing Audi, 1st Pro-Am Trophy): "I managed to get in some decent lap times, but the guys behind me still caught up with me. I did not want to risk being caught by Zanardi as well and therefore did not try to block them too much. It proved to be the right decision."