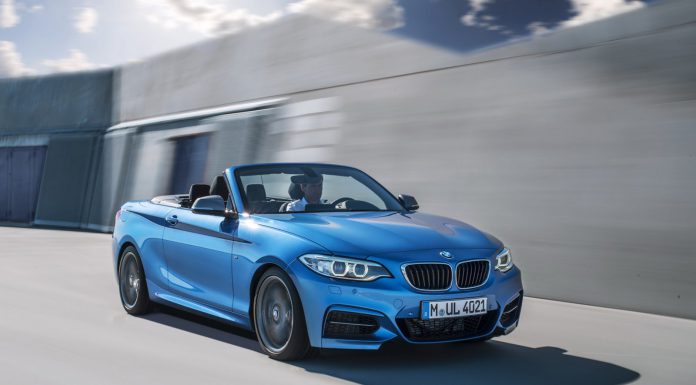 After numerous prototypes were spied testing in recent months, the 2015 BMW 2-Series Convertible has officially been revealed. Set to make its public world debut at the Paris Motor Show 2014 next month and then November's Los Angeles Auto Show 2014, the 2-Series Convertible promises all that which the coupe models deliver but with the inclusion of a folding roof.
The 2015 BMW 2-Series Convertible is available in the same 228i, 228i xDrive and most importantly, M235i specifications with all set to arrive in the U.S. next year. As a result, the convertible models remain essentially mechanically identical to the coupes.
As a result, the BMW 228i Convertible delivers 240 hp and 255 lb-ft of torque from its small turbocharged 2.0-litre four-cylinder. Consequently, it can reach 96 km/h (60 mph) in a mere 5.7 seconds and comes standard with an eight-speed automatic gearbox. When equipped with the optional all-wheel drive system as the 228i xDrive, the 0-60 mph sprint will drop to 5.6 seconds with 70 per cent of the power going to the rear and the remaining 30 per cent being sent through the front wheels.
As for the 2015 BMW M235i Convertible, it delivers an identical 320 hp and 330 lb-ft of torque to the coupe. Unlike the 228i Convertible models however, it is available with a six-speed manual transmission in addition to the eight-speed auto. With the latter transmission, it hits 96 km/h in just 4.8 seconds as well as an electronically limited top speed of 250 km/h. When ordered with the manual, that sprint time increases slightly to 5.0 seconds flat.
The exterior design of the BMW 2 Series Convertible displays the typical characteristics of an open-top four-seater from the Bavarian brand. As a result, the BMW 2 Series Convertible combines a low-slung silhouette and dynamically stretched lines with compact proportions and contoured surfaces.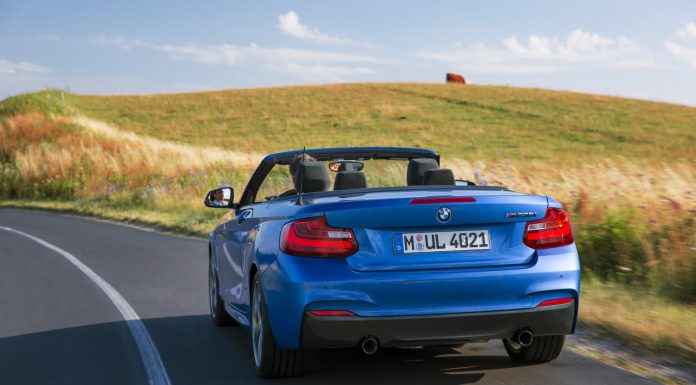 According to BMW, "As with the 2 Series Coupe, the (2-Series Convertible's) distinctive looks underline its standalone in the brand's model line-up and spotlight the dynamic potential, exhilarating open-top driving experience and premium characteristics which customers can expect."
Unlike some rivals, particularly the Audi TTS Roadster, the BMW 2-Series Convertible features hide-away rollover hoops which only deploy when they are required in the event of the sports car rolling.