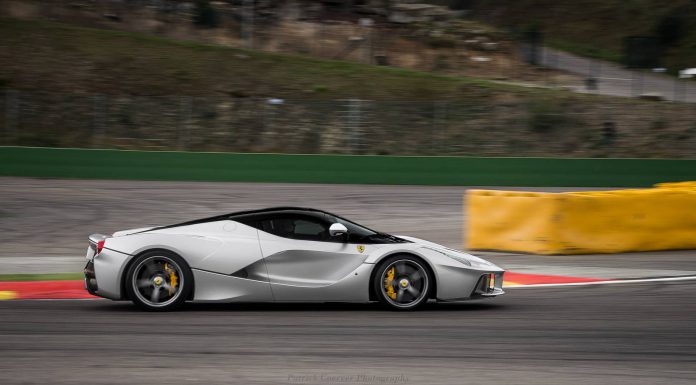 We've already brought you an intoxicating video of a silver LaFerrari hitting Spa Francorchamps as well as coverage from the Ferrari Owner's Day gathering, and now we're featuring a stunning LaFerrari shot as our latest Photo Of The Day inclusion!
Snapped at the circuit's final chicane, the LaFerrari looks totally poised and settled through the tricky corner. One of the most eye-catching elements of this photo is that it perfectly shows just how truly massive the yellow brake calipers of the LaFerrari are!
In case you didn't know, the LaFerrari gets a 6.3 liter V12 which is connected to an electric motor similar to the system on the McLaren P1. The Ferrari F150 V12 has an output of 789 hp at 9000 rpm and 700 Nm at 7000 rpm while its electric motor has a maximum output of 161 hp and 270 Nm of torque. That delivers a total combined power output of 950 hp, allowing the new Ferrari Enzo to do 0-100 km/h in less than 3 seconds, 0-300 km/h in 15 seconds and a top speed in excess of 350 km/h.