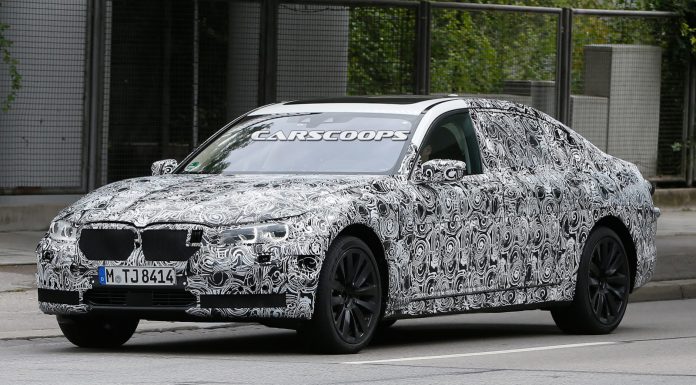 A new 2016 BMW 7-Series prototype has been spied testing with this particular example wearing production ready headlights under light camouflage. While it remains to be confirmed, it seems quite likely that the next-generation 7-Series will feature laser headlight technology borrowed from the BMW i8 which is the first car to use such a system.
Not too long ago, BMW confirmed that the next-generation BMW 7-Series will utilise carbon fibre in its construction. Of course, the launch of the next 7-Series in 2015 will follow on from the i3 and i8 both of which utilise carbon fibre extensively. It is believed that the car will utilise a chassis combining both aluminium and carbon fibre which could aid in a drastic 204 kg weight reduction over the outgoing BMW 7-Series model.
Beneath the new lightweight body, a host of engines will be available for the new 7-Series. While manufacturers are indeed adopting smaller and smaller engines, we expect range-topping V12s to be available. Additionally, a pair of petrol and diesel turbocharged 3.0-litre inline six-cylinder engines are set to be used as well as an improved V8.
Due to the heavy camouflage which this prototype is wearing, it is hard to tell what the finished design will be like. However, we do expect the new 7-Series to take design inspiration from the BMW Vision Future Luxury Concept unveiled at the Beijing Auto Show a few months ago.
Recently, the interior of the BMW 7-Series was photographed and it featured a very similar dashboard design to the existing 5-Series and 6-Series with it including similar gauges and the same infotainment screen. Of course, the car in question was just a mule meaning many of the interior features could change rather dramatically.
And if the cabin of the new 7-Series is to compete with the Mercedes-Benz S-Class, it will have to be dramatically improved. After all, the S-Class features two massive 12.3-inch monitors stretching across the dashboard with one acting as the gauge cluster and the other supporting the infotainment functions. It will be interesting to see if BMW adopts a similar electronic cluster for the production-spec 7-Series.
[Via Carscoops]