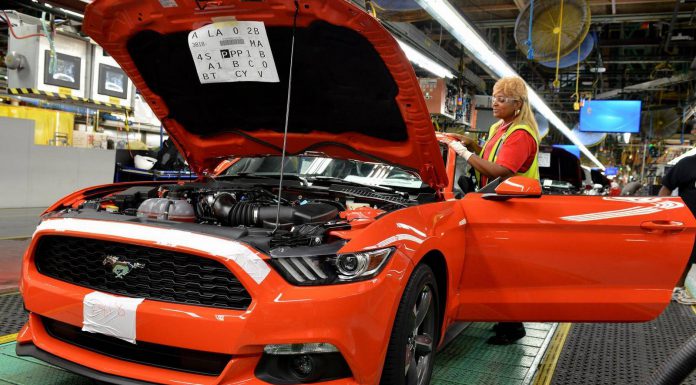 Production of the 2015 Ford Mustang has just commenced at the company's Flat Rock Assembly Plant. For the first time in the 50-year history of the Mustang, the American muscle car will be exported globally.
UAE Vice President Jimmy Settles said, "What an honor it is for the hardworking and dedicated UAW Local 3000 workers of Flat Rock Assembly Plant to build the next-generation Mustang. I don't think there is any place in the world where this vehicle is not known. To build it right here in Michigan is something to be proud of."
During the last year, the plant has been transformed with $555 million invested to add a state-of-the-art flexible body shop which allows multiple Ford models to be produced on the same line.
The 2015 Ford Mustang line-up is currently topped by the Mustang GT. It features a naturally-aspirated V8 engine and manages to produce an impressive 435 hp and 400 lb-ft of torque. To help create the uprated V8, Ford implemented larger intake valves, larger exhaust valves, revised intake and exhaust camshafts, stiffer valve springs, a new cylinder head casting, Sinter forged connecting rods, redesigned piston tops and a rebalanced forced crankshaft.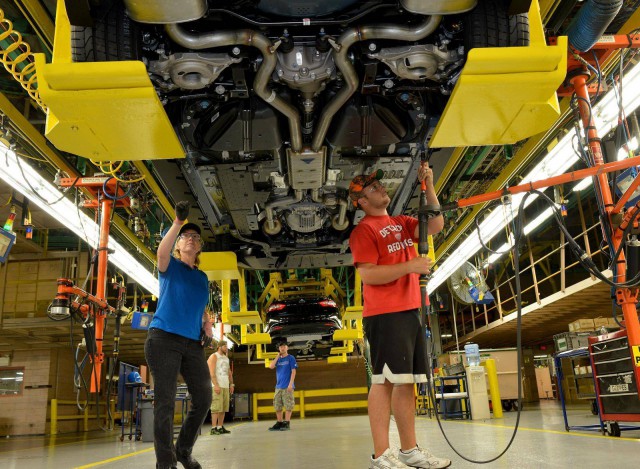 Elsewhere, the mid-range 2.3-litre EcoBoost four-cylinder engine officially produces 310 hp and 320 lb-ft of torque. The engine delivers an impressive 135 hp per litre and more than 139 lb-ft of torque per litre and it was built specifically for the sixth-gen Mustang.
Some of its key features include a forged steel crankshaft, piston cooling jets, steel piston ring carriers, forged steel connecting rods as well as a high-pressure die-cast aluminium cylinder block with ladder-frame bearing caps.
As for the entry-level 3.7-litre V6 powered 2015 Ford Mustang, it delivers 300 hp and 290 lb-ft of torque.
From a weight standpoint, the 2015 Ford Mustang GT fastback tips the scales at 1691 kg while the 2.3-litre EcoBoost fastback produces 1598 kg. These equate to modest weight gains of between 12 and 87 pounds over the fifth-gen Mustang.