American BMW tuner Dinan has officially announced their S1 upgrade package for the F10 generation M5. The comprehensive kit will bump the car's power to 675 horsepower and 644 lb-ft of torque and will also come with optional suspension and cosmetic upgrades.
The stock M5 produces 560 horsepower and 502 lb-ft of torque, so the power bump that comes with the S1 kit is significant. Contributing to the power increase is a Dinantronics performance tuner, a Dinan stainless steel free-flow muffler and a Dinan carbon-fiber air intake. The majority of the performance comes from the Dinantronics tuner, which enhances engine performance without voiding warranty coverage or affecting long term reliability.
Complementing the performance boost is a heavily upgraded suspension system. Dinan's suspension kit includes negative camber front control arms, lightweight tubular anti-roll bars and high-performance adjustable coil-over system. The coil over system allows for the M5's factory electronic damper control shocks to still be used and allows the user to easily adjust the ride height with threaded collars.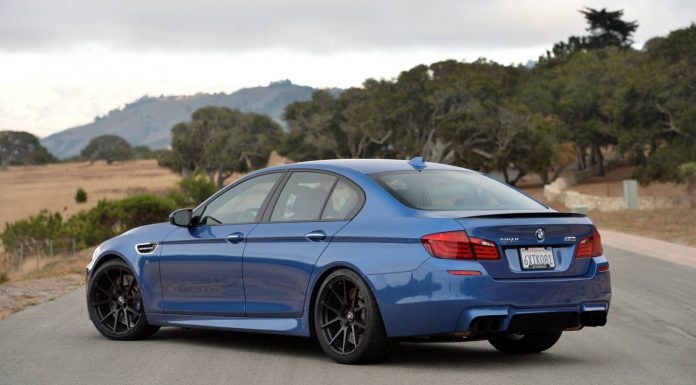 Optional cosmetic accessories with the Dinan S1 package include Dinan lightweight forged wheels, a carbon rear spoiler, a carbon front fascia element and Dinan aluminum pedals. The engine tune will run you $9,747 USD, while the suspension components will cost another $3,511 and the wheels will cost $6,450 for a set. Contact Dinan for more information.