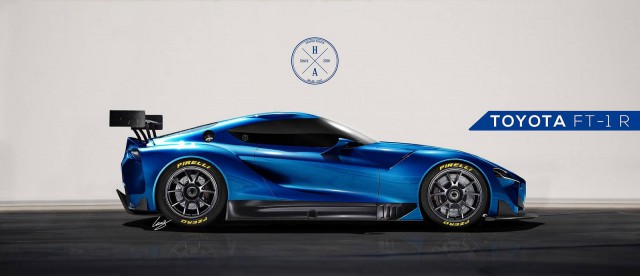 So far, Toyota has launched two real-life examples of the FT-1 Concept. The original is finished in a bright shade of red while a stunning Graphite Silver example debuted at Monterey Car Week 2014 alongside the virtual Vision Gran Turismo concept. Previous rumours indicated that those two latter cars would indeed come to fruition while also indicating that a real track-only variant could arrive.
While it remains to be seen, such a car could be created to compete in Japan's Super GT500 series against cars like the RC-F GT500 and Honda NSX Concept racer. To give us an idea of how such a car could look, Hansen Art has created the following rendering.
Most notably, the car has been fitted with a massive carbon fibre rear spoiler as well as a set of racing wheels and slick Pirelli P Zero tyres. The car also features a large rear diffuser, side skirts and front splitter.
Overall, the Toyota FT-1 features the function-sculpting design language. This has resulted in a curved, muscular and expressive body the clearly seems to have been shaped to be as fluid and flowing as possible. Inlets, ducts, and vents are features of the exterior design that help reinforce its race–ready nature with elements of purposeful airflow management designed to keep the car at its optimum temperature. At higher speeds a retractable rear wing deploys and tilts generating yet more downforce and helping to keep the car planted.
The result of the radical design means that the FT-1 is not only a very dynamic shape but one that is a feast for the eyes, a real stunner that commands attention and further inspection. Alex Shen, Calty's Studio Chief Designer echoed this when saying at the car's launch, "Our team was heavily influenced by Toyota's sports car past, especially Celica and Supra, and we sought to capture some of that history. It is an aggressive, track-focused sports car concept with a presence that has been amplified for shock and awe."