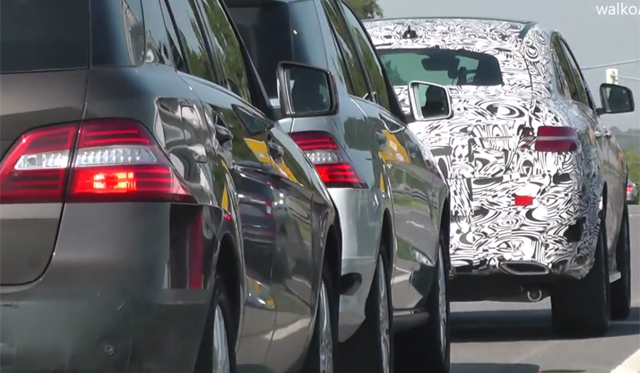 Both the brand new Mercedes-Benz ML Coupe as well as the facelifted 2016 Mercedes-Benz M-Class SUV have been spied testing together.
As for the new M-Class, it is expected to feature redesigned headlights likely to look more similar to those of the C-Class and S-Class alongside a new bumper, grille and modified air intakes. At the rear, brushed aluminium dual exhaust tips which mimic those from the recently launched 2015 Mercedes-Benz C-Class Estate are present. One additional feature which we know will make an appearance in the new M-Class will be the German marque's latest dashboard design with the latest variation of the COMAND system.
[youtube]http://youtu.be/iNvYNpNI7vk?t=8s[/youtube]
As for the new Mercedes-Benz ML Coupe, it will look very similar to the Concept Coupe SUV unveiled back at the Beijing Motor Show. However, as is typically the case, the production-spec Mercedes-Benz ML Coupe will feature redesigned bumpers both front and rear as well as larger wing mirrors. It is also likely that slightly tweaked headlights and taillights will feature.
The production-spec Mercedes-Benz ML Coupe will rival the BMW X6 and is expected to be available with a host of different engines. For starters, both petrol and diesel V6 engines are expected alongside a very economical hybrid. At the top of the range, we can expect to see a V8 powered ML63 AMG Coupe and an ML65 AMG Coupe powered by a V12 engine!