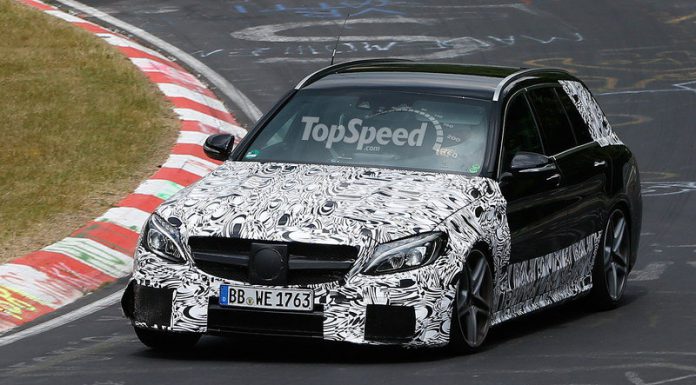 The 2015 Mercedes-Benz C 63 AMG sedan has yet to launch but Mercedes-Benz was recently spotted testing a new C 63 AMG Estate prototype at the Nurburgring. The new 2015 Mercedes-Benz C 63 AMG Estate will remain mechanically identical to the sedan but that doesn't mean it is any less exciting!
Under the hood, we know for sure that the 2015 Mercedes-Benz C 63 AMG sedan will feature the same 4.0-litre biturbo V8 engine of the Mercedes-AMG GT albeit in a different tune. Currently codenamed M177, the new 4.0-liter twin-turbo V8 is predicted to produce between 480 hp and an incredible 580 hp depending on what specification is ordered. It will then be mated to the 7G-MCT SpeedShift automatic transmission currently used in a selection of other AMG models.
While the new Mercedes-Benz C 63 AMG is promising to be an incredible car to drive, there is some concern about how it will sound compared to the brutally loud 6.2-litre V8 powered car currently on sale. It will be interesting to see how Mercedes-Benz gets around this.
Visually, the 2015 Mercedes-Benz C 63 AMG Estate will receive the same styling upgrades as the sedan. As a result, we can expect more aggressive bumpers both front and rear as well as a new rear diffuser and quad exhaust pipes.
It is speculated that both the sedan and estate versions will debut online on September 24th before the Paris Motor Show 2014 in October.
[Via Top Speed]