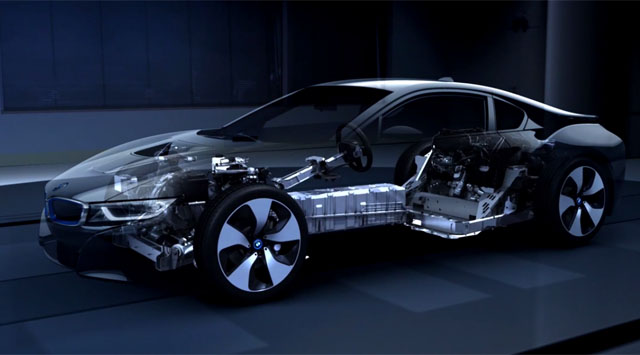 For the moment, hybrid cars weigh more than their conventionally powered competitors. This is mainly due to the heavy batteries. As a result, weight saving is key when creating a car like the BMW i8 hybrid sports car. To demonstrate just how committed BMW was to making the i8 weigh as little as possible, it has released the following highlighting the lightweight design of the car.
[youtube]https://www.youtube.com/watch?v=1mQhRSH5d9I#t=272[/youtube]
The single most important weight saving measure for the BMW i8 is its unique 'LifeDrive' architecture. This platform features the carbon fibre reinforced plastic monocoque dubbed the 'Life' and the aluminium module incorporating the i8's powertrain called the 'Drive'. One of the most important aspects of the BMW i8 is its heavy use of carbon fibre which comes from the American plant which recently announced it will triple its annual carbon fibre production up to 9000 tons.
Alongside this feature, the BMW i8 features lightweight glass as well as a host of lightweight aluminium components. The i8's instrument panel is made from diecast magnesium while the wheels have also been designed to weigh very little.