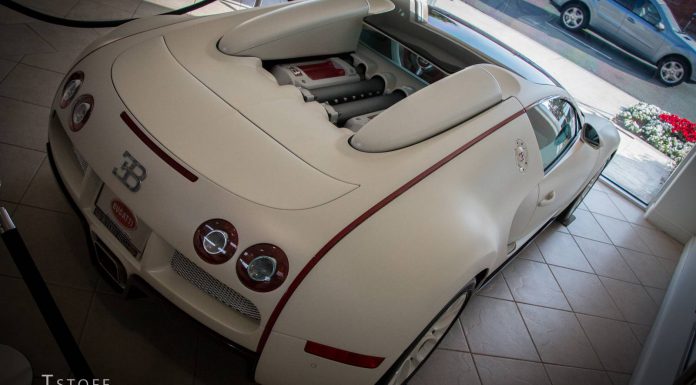 Floyd Mayweather has officially added a third Bugatti Veyron to his incredible car collection with his latest addition being an extremely unique example once owned by rapper Xzibit.
The Veyron is a unique Grand Sport example finished in a stunning shade of matte white with a hint of light pink about it. This unique paintwork is then matched by a set of custom Veyron wheels hiding massive red brake calipers.
This matte white and red combination continues throughout the rest of the vehicle. It features unique dark red carbon fiber side sills and a uniquely finished gas cap. The engine also features custom red accents and a stunning dark red carbon fiber rear diffuser matching the aforementioned carbon side sills!
[youtube]https://www.youtube.com/watch?v=NLcYvlJ41-4[/youtube]
The theme is also carried into the cabin with it featuring a host of red leather and Alcantara components. Additionally, the car sports a custom red crocodile leather shifter! In 2012, Xzibit took this Veyron on the Gumbal 3000.
It really isn't surprising that Mayweather decided to add another extraordinary supercar to his insane collection. Earlier this month, he beat Marcos Maidana and in the process, made well over $30 million. In fact, Mayweather claims that once the PayPerView figures come in, he would have earned about $70 million for 36 minutes work!