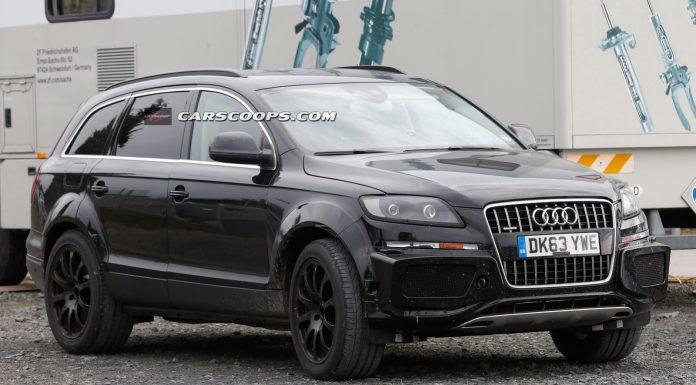 On first glance, the following spy shots look to simply be showing a new Audi Q7 variant. However, under the skin, this prototype is testing out tech for the upcoming Bentley SUV.
What distinguishes this prototype from Audi Q7s on the market are the different headlights and taillights, flared fenders, larger wheels and brakes and more prominent air vents. If that wasn't enough, the car is actually registered as a Bentley in the United Kingdom!
When the Bentley SUV is officially revealed, it will feature a shape dramatically different to the EXP 9 F Concept following the poor reception that car received. A lower roofline will be utilised and at the front, the SUV will more resemble the British luxury marque's other cars like the Flying Spur and Continental GT and GTC.
This particular prototype is fitted with Bentley's 6.0-litre twin-turbocharged W12 engine which delivers over 600 hp and 605 lb-ft of torque. Currently, this engine is utilised in the Continental GT Speed and seems appropriate for the Bentley SUV considering just how luxurious and expensive it is expected to be.
In addition to ensuring the Bentley SUV is extremely plush and comfortable to drive, reports emerged back in March that it could feature a 200 mph top speed. While this remains unconfirmed, we do know that down the road, the Bentley SUV will be the first Bentley available as a hybrid.
[Via Carscoops]