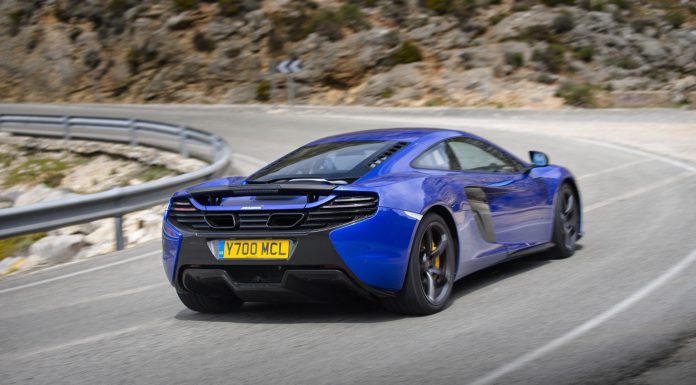 After months of speculation and rumours, McLaren Automotive CEO Mike Flewitt has dropped some interesting details about the upcoming McLaren P13 sports car while speaking with Top Gear.
First off, Flewitt confirmed that the McLaren P13 will hit the market in September next year and cost two-thirds that of the 650S ie. 135,000 pounds. Additionally, Flewitt also confirmed that the P13 will use a variation of the 3.8-litre twin-turbocharged V8 engine used by the 650S and P1 and previously, the 12C. While it will be the least powerful car in McLaren's line-up, Flewitt is confident it will be the best driver's car in its segment.
GTspirit Road Test of McLaren 650S

"McLaren is consistent. It will be the best driver's car in its segment. That's what we do. All our cars have low-capacity powerful turbo engines and are light and have a carbon fibre tub.
"If you saw the P13's tub and the P11's (12C and 650S), they are different but made on similar principles. Both are two-seaters, both mid-engined, but with different engines and suspensions. That's how the 650S will justify its premium.
"All our cars will use the V8, with the same block dimensions and bore centres, so it's a related version in the P13. After all it's only three years old, and has lots of development left in it," said Flewitt.
Designed to compete directly with the Porsche 911 Turbo S, the McLaren P13 will also maintain similar steering feel to the 650S and P1.
"Of course the 650S will have more speed and grip than the P13. But the art for the P13 is the same as the 650S and even the P1: that the driver can exploit the capability of the car, without the electronics intervening. Things like our steering are consistent across our cars: low friction, little self-centring, but not as direct as a Ferrari because that can be tiring.
"Getting the intangible feel is what matters. We can all recognise it, even if it can't be measured. The P13 will be the most engaging car in its segment," Flewitt concluded.
As for the name, well that hasn't been decided on with Flewitt jokingly saying "Part of the trouble is being English. We can't get away with things the Italians can do. I can't call a car the Ron or the Woking."
[Via Top Gear]