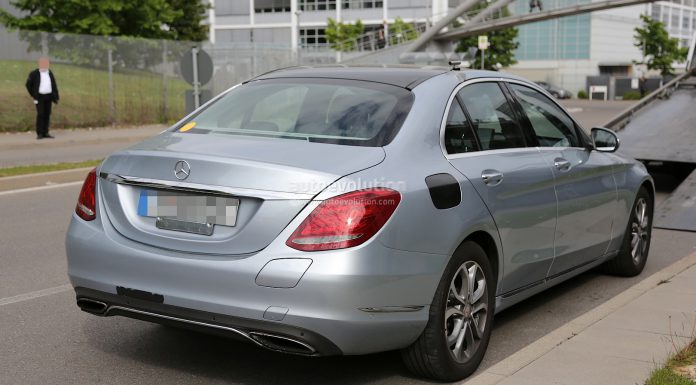 Just after the very first images of it emerged, the upcoming 2015 Mercedes-Benz C 350 Plug-In Hybrid has been spied completely undisguised.
This particular C-Class Plug-In Hybrid prototype was spied testing near Mercedes-Benz's Stuttgart headquarters. As evidenced in the image above, the charging socket is located on the rear bumper just like the Mercedes-Benz S-Class Plug-In Hybrid.
Differentiating the new C-Class Plug-In Hybrid from the S-Class however will be its engine. Whereas the S-Class Plug-In Hybrid features a turbocharged V6 engine mated with an electric motor joined with the transmission. By comparison, the 2016 Mercedes-Benz C-Class Plug-In Hybrid is expected to utilise a turbocharged four-cylinder engine along with a similar electric motor and transmission setup.
All-up, the C-Class Plug-In Hybrid could deliver around 280 hp thanks to the 211 hp four-cylinder and the electric motor providing an additional 70 horses. Importantly, the C 350 Plug-In Hybrid should be capable of a 30 mile range in purely electric mode and have a combined cycle of around 78 mpg if not even better.
As a result of this, the C 350 Plug-In Hybrid will be the most efficient C-Class model ever produced.
A worldwide debut is currently pinned in for the Paris Motor Show 2014 later this year before deliveries commence early next year. We'll have to wait a little bit longer to find out just how much it'll cost.
[Via Auto Evolution]