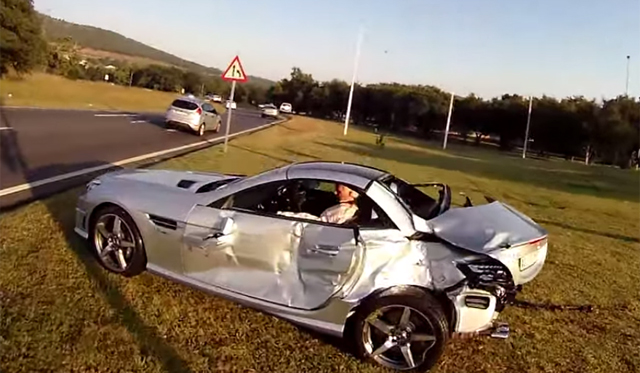 South Africa is a dangerous place. Despite its natural beauty, South Africa has exceptionally high levels of crime so much so that approximately 50 people are murdered across the country every day. As the following video shows, driving on South Africa's roads can also be quite perilous.
[youtube]https://www.youtube.com/watch?v=bh5GIyTAVQk#t=41[/youtube]
The following motovlogger on YouTube inadvertently filmed an horrific crash involving a large Coca-Cola truck and a Mercedes-Benz SLK 55 AMG. While the actual impact is hard to see in the video, the large Coke truck clearly plows right through the busy intersection on a red light. It then appears to collide with the aforementioned SLK 55 AMG as well as a smaller white truck.
Fortunately, the old driver of the SLK 55 AMG wasn't hurt during the crash. However, it is unclear if either of the two truck driver's sustained any injuries.