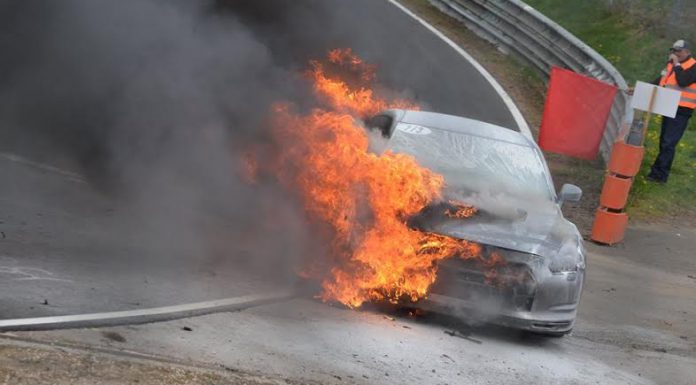 A stunning Nissan GT-R Spec-V recently caught on fire while driving on the Nurburgring Nordschleife and had it not been for the on-point track marshals would have been burnt right down to its chassis.
[youtube]http://www.youtube.com/watch?v=pBcSuKA6pPc[/youtube]
The fire reportedly began due to the brakes getting too hot as witnesses saw flames coming out from the front right wheel and the driver complained about the brakes overheating. Thankfully, the driver and his passenger managed to escape the blaze before the fire took hold and even decided to snap a few pictures and videos while watching the special edition GT-R being completely destroyed!
The Nissan GT-R Spec-V was initially introduced back in early 2009 and while it doesn't produce more horsepower than the standard GT-R, it does deliver more mid and high-range torque and includes a titanium exhaust, tweaked suspension, carbon ceramic brakes as standard as well as weight saving wheels.
Hat tip to Kilian Theobald!