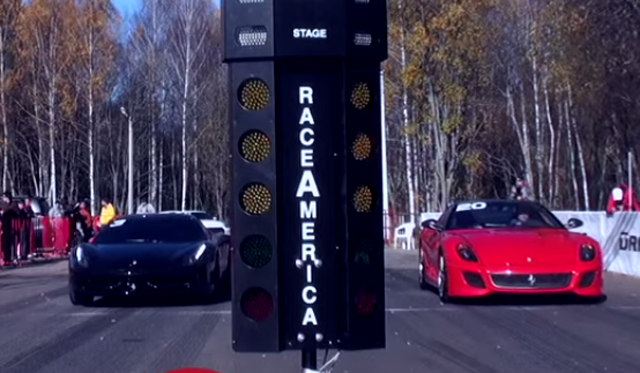 While the power difference between the Ferrari 458 Italia and Ferrari 599 GTO is around the 100 hp mark, both cars are incredibly close in straight-line acceleration as the following video shows.
[youtube]https://www.youtube.com/watch?v=5a__DuqJoME[/youtube]
Filmed at the always awesome Unlim 500+ races in Russia, the following clip shows a stunning black Ferrari 458 Italia racing a red Ferrari 599 GTO and the result is actually a lot closer than you would think considering the power difference. Understandably, the 599 GTO comes out on top crossing the one mile mark in 28.860 seconds at a top speed of 294.59 km/h. By comparison, the 458 Italia clocks a very respectable time of 29.063 seconds at 283.68 km/h!
The clip concludes with a nice one mile drag race between the 599 GTO as well as a potent Mercedes-Benz ML 63 AMG tuned to deliver 700 hp!