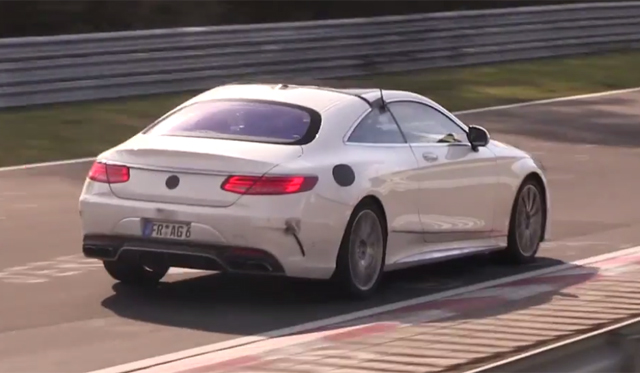 Prior to deliveries of the Mercedes-Benz S 63 AMG Coupe commencing soon, an undisguised testing car was recently spied being driven brutally hard on the infamous Nurburgring. Alongside it was what is believed to be the new S500 Coupe hiding under some heavy camouflage.
[youtube]https://www.youtube.com/watch?v=uF_N74AKA_E#t=158[/youtube]
While it is impossible to tell if the disguised S-Class Coupe really is a new S500 variant, if it indeed is, it could very well follow in the footsteps of the S-Class sedan and feature a Plug-In Hybrid powertrain. Powering the sedan Mercedes-Benz S500 Plug-In Hybrid is a brand new turbocharged 3.0-liter V6 delivering an impressive 328 hp and 354 lb-ft of torque. This engine is joined with an electric motor that offers an extra 107 hp and 251 lb-ft of torque. Consequently, the 2014 Mercedes-Benz S500 Plug-In Hybrid can sprint to 100 km/h in just 5.5 seconds and a top speed of 250 km/h.
As for the Mercedes-Benz S 63 AMG Coupe recently revealed, it is powered by a potent 5.5-liter twin-turbocharged V8 engine delivering 577 hp at 5,500 rpm as well as a brutal 664 lb-ft of torque at a low 2,240 rpm.
Interestingly, the new S 63 AMG Coupe can be ordered either in rear-wheel drive or all-wheel drive configurations in Europe but in the U.S., the car is only available with the 4Matic all-wheel drive system. Despite its very heavy weight of 1,995 kg, Mercedes-Benz claims that the S 63 AMG Coupe can hit 100 km/h from a standstill in a mere 3.9 seconds with the all-wheel drive system and reach the same mark as a RWD in 4.3 seconds. Both have an electronically limited top speed of 300 km/h.