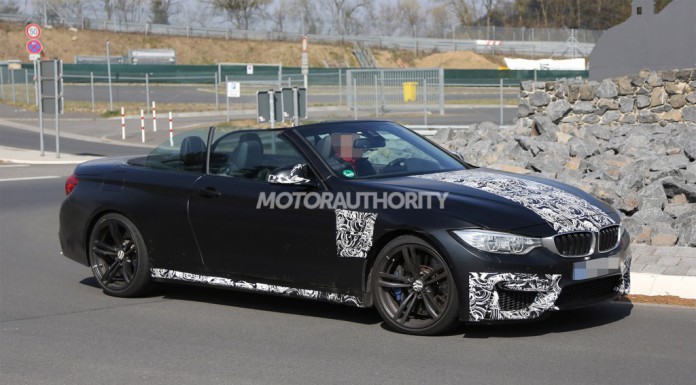 Seeing the BMW M4 Convertible testing has become in recent months, something we've become quite accustomed to. However, a matte black prototype was recently spotted wearing the least amount of camouflage we have seen thus far while also having its top down for the first time.
The brand new BMW M4 Convertible will essentially combine the visual, aerodynamic and powertrain upgrades of the standard M4 coupe with the same overall design and removable hardtop with the 4-Series Convertible. As the image above shows, the M4 Convertible is definitely a car which will turn heads when it hits the production line later this year even though it doesn't feature as sleek lines as the coupe variant.
Under the hood, expect it to remain identical to the coupe. As a result, it will feature a twin-turbocharged six-cylinder engine revving to 7,600 rpm and producing an impressive 431 hp between 5,390 rpm and 7,000 rpm and 406 lb-ft of torque from a low 1,800 rpm to 5,390rpm. That torque figure is available across a broad rev range and is an improvement over the outgoing BMW E92 M3 of 40 per cent.
When fitted inside the M4 coupe, this powertrain helps rocket the German sports car to 100 km/h in just 4.1 seconds with the optional seven-speed M double clutch transmission. Expect a similar, but possibly slightly slower, acceleration time for BMW M4 Convertible.
According to recent reports, the M4 Convertible will debut at the Goodwood Festival of Speed 2014. However, there is also a chance it will debut at next month's New York Auto Show 2014.
[Via Motor Authority]