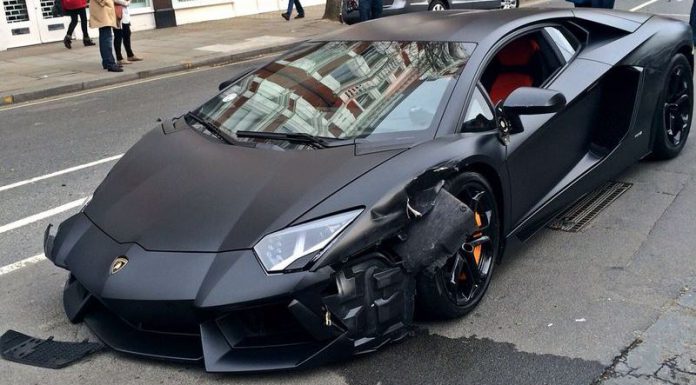 The Lamborghini Aventador must be one of the most desirable cars on the market today. The sheer drama and theatre of the car turns heads everywhere! Here we have a matte black example that is often seen in Londons Knightsbridge that was recently getting more attention than normal, unfortunately, for the wrong reasons!
As you can see the car has taken a hefty hit to its front end after colliding with a BMW 3-Series, Mazda and Toyota on Sloane Street where huge crowds gathered to take photos and watch the sorry looking car being towed away.
[youtube]http://youtu.be/2rxG4b3qOHo[/youtube]
Just to refresh your memory, the Aventador features a 6.5 liter V12 engine that produces 700 hp at 8,250 rpm and 690 Nm of torque at 5,500 rpm. Using thrust mode – Lamborghini's version of launch control – allows you to reach 100 km/h in less than three seconds, 2.9 to be precise and 0-200 km/h is done in a staggering 8.9 seconds flat. In the right environment you will keep accelerating all the way up to 351 km/h and pull 1.3 G when braking from 100-0 km/h. Phenomenal figures indeed!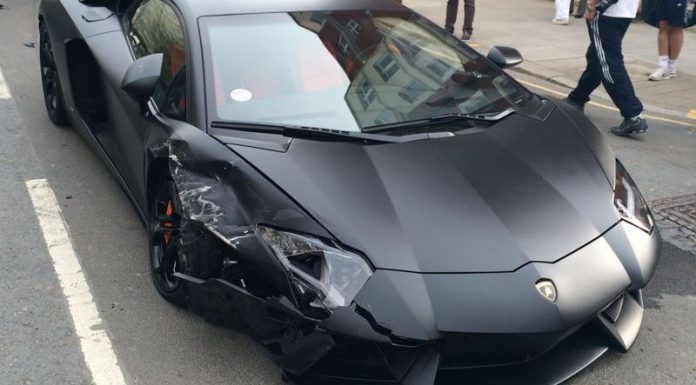 [Via Supercarscene]