The new breed of FIA World Endurance Series hybrid racers took it to the track today at Paul Ricard circuit in France. This was during the FIAWEC Prologue which marked the official pre-season testing. This also comes shortly after Porsche, Audi and Toyota revealed their new LMP1 racers for the 2014 season.
They started with a 4-hour test session which was dominated by both Porsche cars; the No.20 Porsche 919 Hybrid of Timo Bernhard was the fastest after setting a time of 1:41.788. This was a tenth faster than team mate Mark Webber in the Porsche 919 Hybrid. Audi came in third 2.85s behind Webber with the No.2 Audi R18 e-tron quattro. During the last test session, the two Porsche's led again with the No.7 Toyota taking third pushing Audi to fourth in the LMP1 class.
The new Porsche 919 Hybrid is powered by both a a four cylinder petrol engine with a V-angle construction and two different energy recovery systems. The petrol engine features direct injection and single turbocharging. It has a displacement of 2 liters and a maximum engine speed of 9,000 rpm.
As for the the newly updated Toyota TS040 Hybrid, it benefits from a 473 hp of all-wheel drive hybrid boost that adds to the 513 hp produced by its 3.7-litre V8 petrol engine. This will result to a total of 986 hp. The 2014 Audi R18 e-Tron Quattro on the other hand is powered by a new V6 TDI diesel engine which sends power to the rear wheels and it utilises two hybrid systems.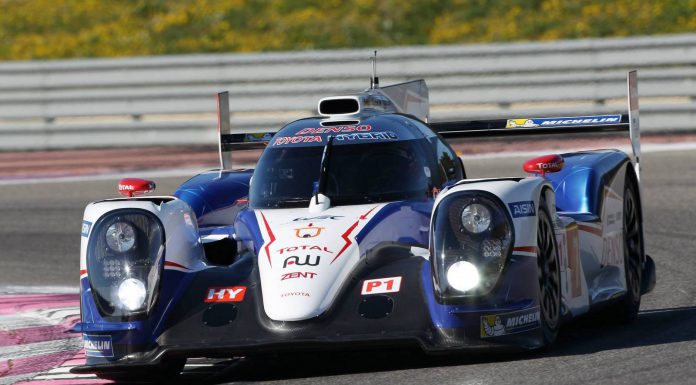 The season will kick off on April 20th at the Silverstone circuit in the UK for the six hours race with the main focus on the 24 Hours of Le Mans.