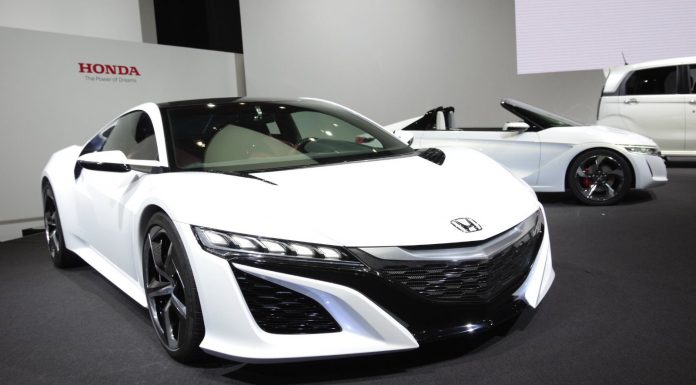 At the upcoming Goodwood Festival of Speed 2014, Honda is set to bring along a potent 2015 Honda NSX prototype to tackle the infamous hillclimb while also being displayed throughout the massive British automotive festival held annually. As a result, this will be one of the first public outings for the Honda NSX prototype where it is actually driven. Throughout the last few years, it has been nothing more than an attraction at Honda booths at auto shows around the world.
The final details about the engine have yet to be confirmed, but what has been confirmed is that the 2015 Honda NSX will utilise a twin-turbocharged V6 engine displacing either 3.5-liters or 3.7-liters. Unsurprisingly, this new engine will be completely unique to the upcoming NSX and could easily deliver enough power to rival cars such as the McLaren 12C and the Ferrari 458 Italia.
Joining the twin-turbocharged V6 engine will be three electric motors. In this system, one electric motor is mounted at each front wheel while the third is integrated into the engine and helps drive the rear wheels. These motors are powered by a lithium-ion battery recharged thanks to regenerative braking.
Mated to the awesome powertrain will be a dual-clutch transmission promising to have "more than six gears". At this stage, it is most likely the 2015 Honda NSX will receive a seven-speed gearbox but an eight-speed could also be on the cards.