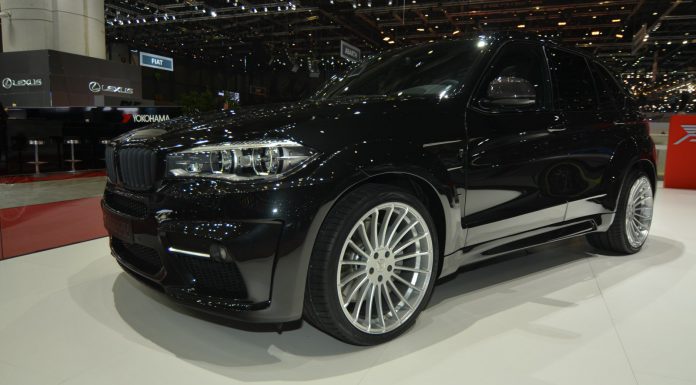 The latest and greatest BMW at the Geneva Motor Show 2014 (from a tuning perspective) is the brand new BMW X5. Hamann have had the new BMW X5 in their workshop for quite a while it seems as they come to the Geneva Motor Show with a fully modified example. Both the aerodynamics and interior receive enhancements.
The Hamann BMW X5 gets a widebody look together with a set of suspension upgrades to give it a more aggressive look. The Hamann BMW X5 receives a whole new front facia with a new front spoiler, two individual fibre-optic daytime running lights and powerful LED front fog lights. Fender flares have been added which expand the width of the car by a full 12 cm.
New Hamann door panels and a new side skirt give a much sportier look. At the back, the four-piece wing extension is complemented by a new rear skirt including a diffuser. The customer has a choice of black or silver anodised tailpipes. Behind the tailpipes is a complete high-grade stainless-steel four-pipe sports exhaust system.
Customised sport springs bring the Hamann BMW X5 closer to the tarmac by as much as 40 mm. The car features Hamann's 22-inch "Anniversary Evo Hyperblack" rims with a noble black/silver lustre. On the front axle, Hamann wraps the one-piece rim with 295/30ZR22 high-performance Vredestein Ultrac Vorti tyres. The same tyres are fitted to the rear but is 335/25ZR22 tyres.

Inside, the headrests feature a Hamann logo and Alcantara finishing. The foot space is upgraded by black anodised aluminium pedals and luxury-style mats.