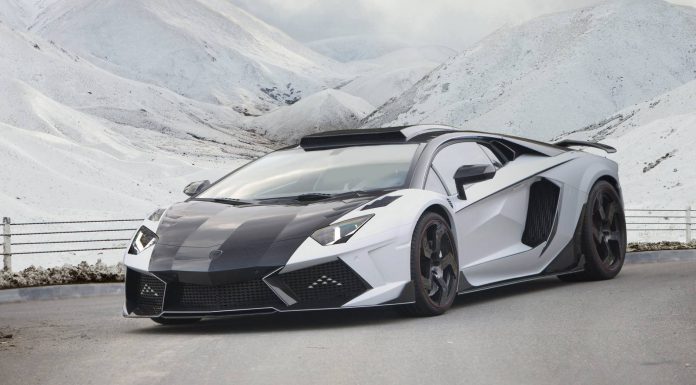 Mansory have revealed one of two headlines at their Geneva Motor Show 2014 stand this year. The Mansory Carbonado GT is a 1,600 hp Lamborghini Aventador, with the same carbon fibre bodywork as the original Mansory Carbonado first show at last year's Geneva Motor Show!
The Mansory Carbonado GT uses the stunning stealth shaped pre-preg carbon fibre. It gets a redesigned front facia with larger air intakes and a new front lip spoiler with integrated daytime running lights. The front wings and the front bonnet have been replaced with Mansory's own design. The width grows by 40 millimetres at the front and 50 millimetres at the rear.
New side skirts direct the air around the body and into the engine. The rear gets a new diffuser and bumper together with a Mansory rear wing. The rood and engine compartment gets a bespoke engine cover to match the rest of the car.
The 6.5 litre V12 cylinder gets two massive turbochargers with new pistons, connecting rods, rod bearings, crankshaft, crank and cylinder heads replacing the standard Lamborghini parts. From manifold right up to the stainless steel tailpipes, the complete exhaust system has been replaced.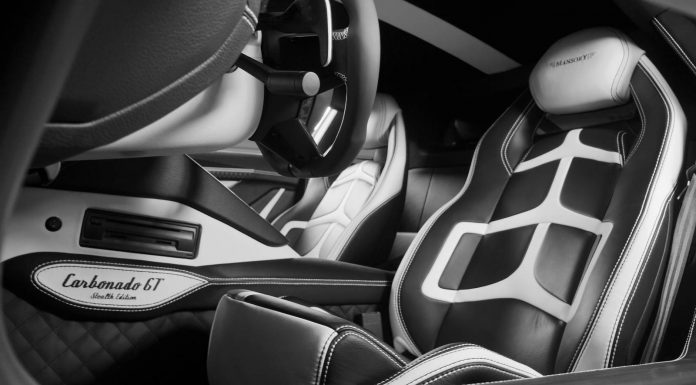 Instead of the 700 hp it originally came with, the Mansory Carbonado GT now gets an impressive 1600 hp, while the maximum electronically-limited torque increases to 1200 Nm. Mansory claim a zero to 100 km/h in a breathtaking 2.1 seconds although this remains unproven. Top speed is said to be in excess of 370 km/h. The wheels used to put the power to the ground measure 9.0 x 20 inches at the front and 13.0 x 21 inches at the rear with Pirelli P Zero tyres in VA 255/30 ZR20 and HA 355/25 ZR21 sizes.
Inside, the interior is completely reupholstered with soft processed leather used for the dashboard. The driver gets a newly designed sports steering wheel and the started button, in true Mansory style, has been relocated to the roof. This is another truly unique Mansory creation. We can't wait to see the Mansory Carbonado GT live at the Geneva Motor Show 2014!