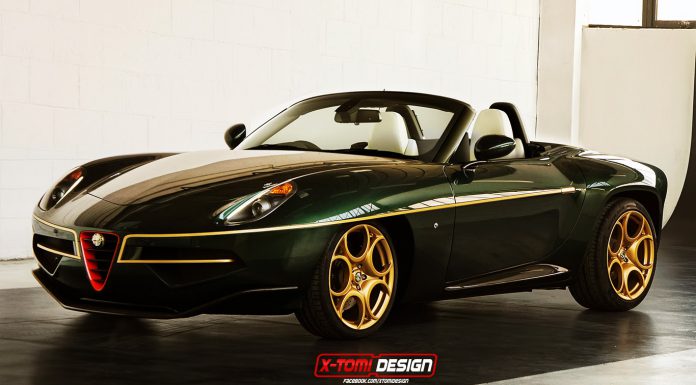 Just a few days ago, Touring Superleggera revealed their latest Alfa Romeo Disco Volante. Differentiating it from the red example we had previously seen, was the interesting dark green and bright gold paintjob.
Well in order to give us an idea of how this latest Disco Volante would look like a convertible, X-Tomi Design has put together the following rendering. Designed with prominent black rollover hoops, the Disco Volante Spider may not look quite as sleek as the coupe, but it still is a beautiful piece of design! Is there a chance Touring Superleggera could create a drop-topped version? Well, considering the Alfa Romeo 8C on which it is based was available as a convertible, we're hopeful!
Due to these underpinnings, the Touring Superleggera Disco Volante features the same V8 engine as the Alfa Romeo 8C Competizione and is therefore produces 450 hp and 480 Nm of torque at 4,750 rpm. It drives just as well as it looks!
[Via X-Tomi Design]