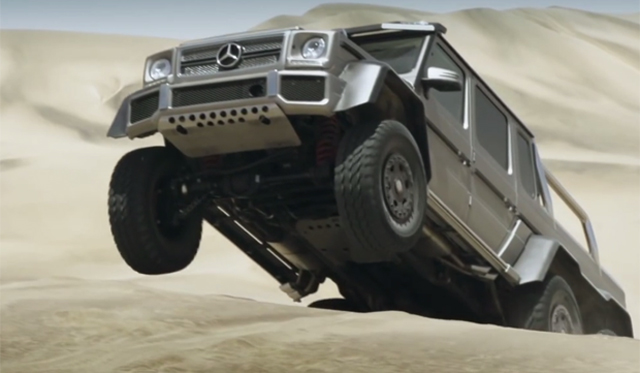 Hot off the heels of Richard Hammond's recent test of the beastly Mercedes-Benz G 63 AMG 6×6 in Dubai, we were understandably left yearning for more. Well, thanks to a brand new clip released by Mercedes-Benz U.K, we can now enjoy 3 and half minutes of the G 63 AMG off-roading!
[youtube]https://www.youtube.com/watch?v=wxYGosxnTRU[/youtube]
It is unclear just where this was filmed, but it shows the most off-road capable G-Class ever tackling some rough ground and sand all while performing some epic slides. It is also includes a few insane climbs up near vertical hills. Towards the end of the clip, the 6×6 heads to the sand dunes for some more slides and acceleration runs without the car even breaking a sweat.
As a reminder, the gets its origins form the C320 CDI developed specifically for the Australian army recently and measures an incredible 5867 mm long, 2111 mm wide and 2209 mm tall. What these figures mean is that the Mercedes-Benz G63 6×6 is an impressive 43.5 inches longer than the standard car, and once seeing the car in action, it's little wonder why the extra two wheels add so much length.
Whereas the military version only features a 3.0-liter diesel engine, this unit which is available to anyone rich enough in the public is fitted with the G63 AMG's 5.5-liter bi-turbo V8 engine pumping out 536 hp and 560 lb-ft of torque. This engine is then mated to a seven-speed 7G-tronic transmission driving all six wheels.