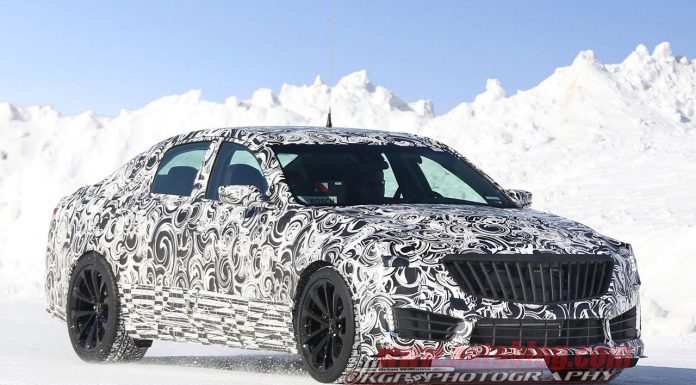 Cadillac is set to continue its assault against its European rivals with a next-generation Cadillac CTS-V, spied here for the very first time. Obviously based around the most recent CTS, the new CTS-V will see styling upgrades all around as well as an engine likely to deliver even more power than the previous generation car.
While the car you see above is completely covered in camouflage, the car will inevitably feature much more aggressive than compared to the standard CTS. Such changes will include flared wheel arches, a new front grille, air intakes, bumpers front and rear as well as new quad-exhaust pipes. As for the new grille, it can be seen finished in matte black on the prototype and features vertical slates. It is currently unclear if this design will make it into production.
While the styling changes will indeed make the new Cadillac CTS-V stand out, the real action is expected to take place under the hood. Insiders say that the new CTS-V could receive a massive GM 6.2-liter V8 aided by a massive supercharger. In its most recent spec, the CTS-V delivers 556 hp and 551 lb-ft of torque. As a result of the upgraded engine, we expect those figures to rise even deeper into supercar territory.
A debut for the new Cadillac CTS-V is likely for 2015 sometime.
[Via Autoblog]