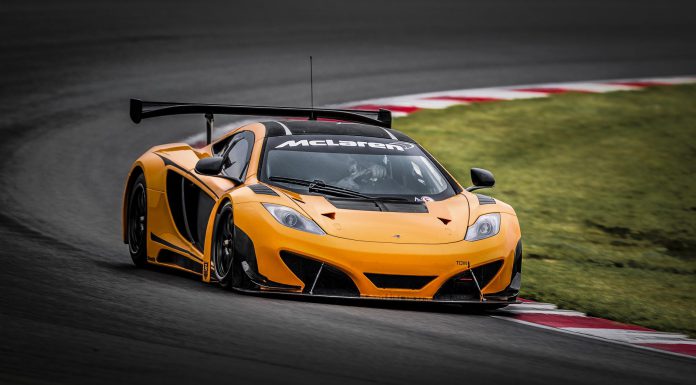 The McLaren name will make a return to racing in North America next month after confirmation that the McLaren 12C GT3 will race in this year's 2014 Pirelli World Challenge. K-PAX Racing who are also former PWC champions will be fielding the McLaren 12C GT3 for this season. With a record of 43 race victories and five championships in the Can-Am series between 1967 and 1971, McLaren is not new to winning in this region.
In 2013 alone, the McLaren 12C GT3 recorded 23 victories, 39 podiums, 27 pole positions and 3 championship titles in the various racing series that it took part in. K-PAX Racing who are fielding two cars this season, will take part in 16 races within the nine set dates throughout the year. The drivers will be Alex Figge and Robert Thorne both who are not new to winning.
Be sure to catch the debut of the McLaren 12C GT3 in North America during the first round of the 2014 Pirelli World Challenge which will be the Firestone Grand Prix of St. Petersburg.
Quotes:
Andrew Kirkaldy, McLaren GT Managing Director commented:
Firstly, I would like to welcome K-PAX Racing as the latest team to join the McLaren GT family. This season is shaping up to be another exciting year, and it is great to see the 12C GT3 making its debut in North America. Our customer teams have been extremely successful over the past two years in each series they have contested, and we are looking forward to seeing the McLaren name competing on some of the best circuits across the region. K-PAX Racing has a formidable record in the Pirelli World Challenge and we are excited by the prospect of working closely with them.
Jim Haughey, K-PAX Racing team owner explained:
The 12C GT3 has proved itself as a race and title winner in the various championships that it has competed since making its debut, and it is a real honour to be bringing the McLaren name back to North American race tracks with K-PAX Racing. McLaren has been at the front of the grid for 50 years, and we are looking to win races this season, maybe even win a championship, and add to the legacy.