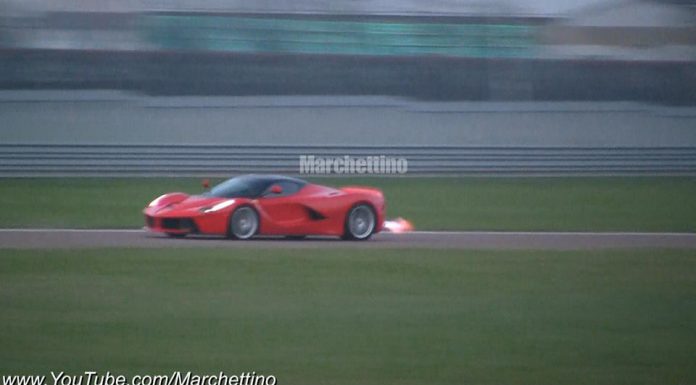 Ferrari LaFerrari. The pinnacle of engineering, a car that will go into battle with the fearsome McLaren P1, that we recently drove, and the sublime Porsche 918. Such cars you would think would be safe in the hands of the worlds greatest and most experienced drivers, someone such as Ferrari's Kimi Raikkonen. The Formula 1 World Champion won motor sports most prestigious prize and was recently seen driving the Ferrari hypercar to its limits…and past them and he lost control and began to pirouette in the sublime hybrid car.
[youtube]http://www.youtube.com/watch?v=AMDVMp3CbdY[/youtube]
As a reminder, LaFerrari gets a 6.3 liter V12 which is connected to an electric motor similar to the system on the McLaren P1. The Ferrari F150 V12 has an output of 800hp at 9.000 RPM and 700Nm at 7.000 RPM while its electric motor has a maximum output of 163hp and 270Nm of torque. That delivers a total combined power output of 963hp, allowing the new Ferrari Enzo to do 0-100 km/h in less than 3 seconds, 0-300 km/h in 15 seconds and a top speed in excess of 350 km/h.
We are sure Kimi will be able to handle his 2014 F1 car with a little more grace!