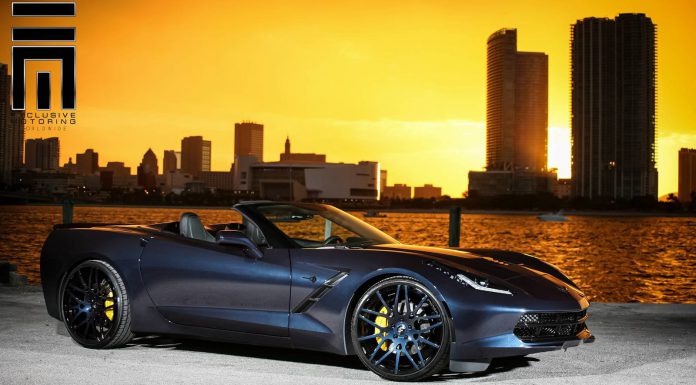 The 2014 Chevrolet Corvette Stingray Convertible, a legendary name reborn in the form of an aggressive snarling muscle car set to refine the convertible sports car market, not only in the United States but across a number of continents.
Here we have a Stingray Convertible that has been worked on by tuners Exclusive Motoring. The company started by lowering the car and sat the body on 21″ & 22″ Forgiato Maglia wheels color matched to the factory paint. Behind these intricate wheels yellow painted callipers draw even more attention. Along with the painted wheels Exclusive Motoring painted the black exterior trim pieces, badges, and the exhaust tips. Adding to the menacing dark look are the smoked tail lights and front/rear corner lights.
The new Corvette is the most powerful base Chevrolet Corvette ever produced. The Chevrolet Corvette Stingray Convertible features the same new generation LT1 GM V8 engine as the Coupe producing around 450hp. It is able to launch to 100km/h in under four seconds, pull over 1G when cornering and stop from 100km/h in a similar time to the Z06 Corvette.