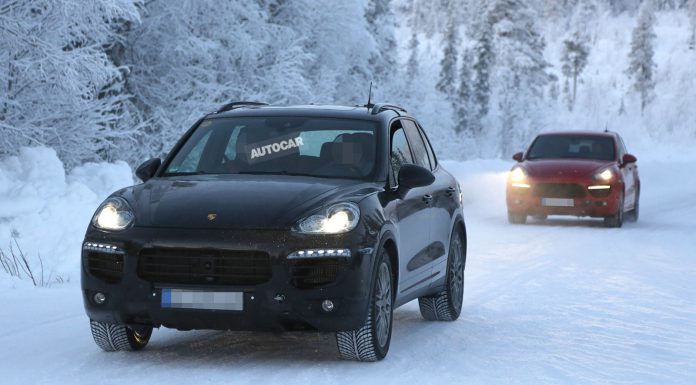 Testing and development of the next Porsche Cayenne is well under way with a prototype recently being spotted testing in the snow. Ever since its release in first-generation guise, the Cayenne has never been known as a stunning car to look at, but with the second-gen car first released as a 2011 model, the design of the Porsche SUV was somewhat improved.
However, one major critique of the Cayenne remains its rather unattractive taillights. As a result, the next Porsche Cayenne is predicted to receive lights at the rear much similar to the slimlined units from the recently revealed Porsche Macan baby SUV.
Additionally, the Macan design inspiration will continue into the rear bumper with it predicted to appear slimmer while at the front, some other rather major visual changes are expected and can be subtlety noticed in the image you see above. First and foremost, the new Cayenne features a redesigned bonnet and a revised bumper.
Powering the next-generation Porsche Cayenne will be a host of engines similar to those of the current car. One of the most notable new additions will be the latest in Porsche's line of hybrid powertrains. This system was first used on the 2014 Porsche Panamera which we had the awesome chance to drive!
Completing the changes for the third-gen Cayenne will be the new MSB platform courtesy of Volkswagen and co-developed by Porsche itself.
[Via Autocar]