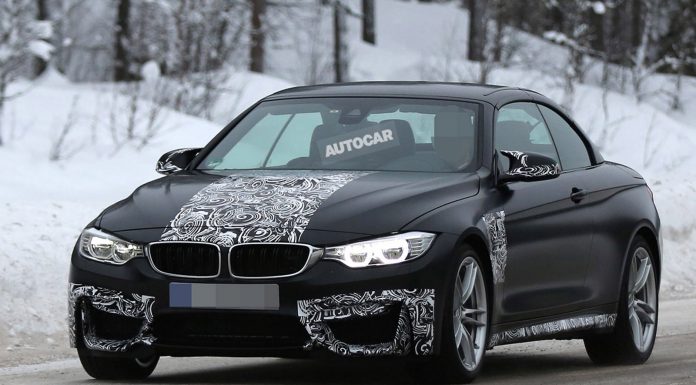 Following on from the worldwide public debut of the brand new 2014 BMW M4 Coupe at the Detroit Motor Show 2014 last month, our attention has now turned to the next M4 variant set to launch. Unsurprisingly, it will be a BMW M4 Convertible and the latest spy photos show it with the least amount of camouflage thus far.
From a styling perspective, essentially everything is identical to the new M4 Coupe with the obvious exception of a hard, fixed-roof. However, at least with a folding hardtop, the upcoming BMW M4 Convertible will look much better than if it had a horrible soft top! This particularly prototype features a pretty cool satin black finished and only has camo hiding the power dome in the hood, as well as some around the air intakes up front, side skirts, wing mirrors, side vents and a little on the rear bumper.
Under the hood, expect it to remain identical to the coupe. As a result, it will feature a twin-turbocharged six-cylinder engine revving to 7,600 rpm and producing an impressive 431 hp between 5,390 rpm and 7,000 rpm and 406 lb-ft of torque from a low 1,800 rpm to 5,390rpm. That torque figure is available across a broad rev range and is an improvement over the outgoing BMW E92 M3 of 40 per cent.
When fitted inside the M4 coupe, this powertrain helps rocket the German sports car to 100 km/h in just 4.1 seconds with the optional seven-speed M double clutch transmission. Expect a similar, if not identical, acceleration time for the BMW M4 Convertible.
[Via Autocar]