Porsche tuning specialists RWB have just released their latest creation dubbed the RWB RUF 964. Based on a standard 1991 Porsche 964, RWB located the car in the Netherlands after being imported by the previous owner from the United States.
This original owner had a selection of impressive RUF upgrades installed in the U.S., so the project definitely had a head-start on making this awesome Porsche 911 even more impressive. Despite having 250,000 km on the odometer, the car recently had a complete engine rebuild and was the perfect starting point for some upgrades.
Previously fitted performance parts on this RUF 964 included a 964 RS light flywheel and clutch, 964 RS engine supports, 993 airmass meter and throttle body, air filter and Motoric upgrade, Sport exhaust with bypass pipe, new engine covers and high tension cables.
RWB then started fitting their trademark upgrades including the firm's complete bodykit with extra canards at the front and the massive "champion" rear wing. Additional performance oriented upgrades include a front and rear original RUF brake upgrade, Porsche 964 RS wishbone bushings, RWB Aragosta suspension system, Work competition wheels measuring 18×10.5 at the front and 18×12.0 at the rear. The wheels are then wrapped in Pirelli P Zero rubber.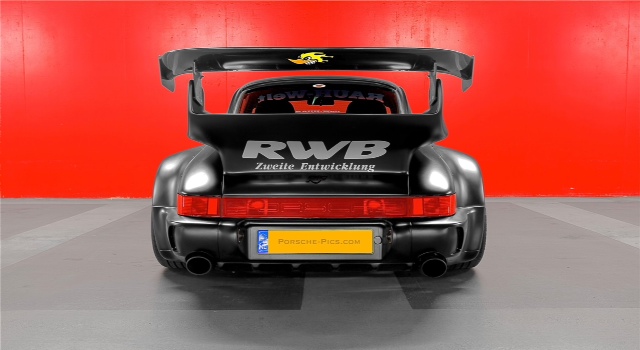 Additional visual upgrades courtesy of RWB include smoked indicator lights, European style red rear light clusters, European style halogen headlights, electrical roof panel and custom RWB decals.
What's more, this insane car is currently up for sale for 80,000 euros. If you want more information on it, be sure to contact us!