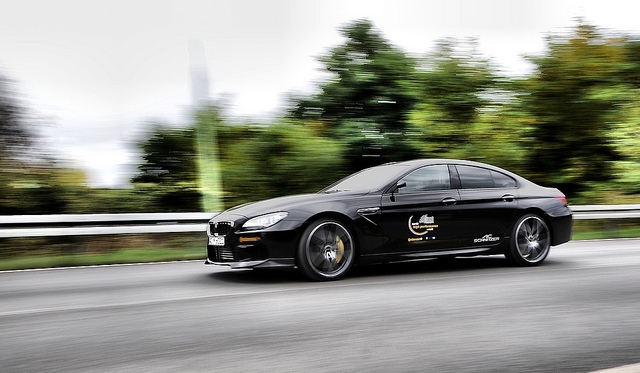 In collaboration with the editorial team of the German car magazine 'Auto Bild Sportscars', the AC Schnitzer BMW M6 Gran Coupe performed a high speed test in Nardò.
Under the headline "Beyond 300 km/h", the BMW M6 Gran Coupé modified by AC Schnitzer was invited as a potential candidate for 300 km/h to this event. After completing the GPS speed measurement on the 13 km long high speed test track, the digital instrument display read 328.9 km/h as top speed. This made the AC Schnitzer BMW M6 Gran Coupé to the fastest road legal BMW at Nardò.
As a reminder, the BMW M6 Gran Coupe by AC Schnitzer now produces 620 hp and 720 Nm of torque. It rides on a suspension spring kit that lowers the ride by 15mm in the front and 25mm in the rear. From the outside, one is struck by the obvious notable differences- a new carbon front spoiler, chromed front grille, carbon rear diffuser and rear spoiler that is in the Coupé only.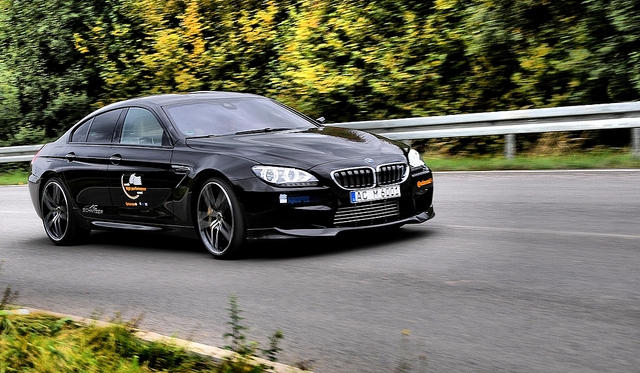 As options, one can order the rear skirt film, emblem film and type designations. The sound is taken care by the win chromed "Sport Trim" tailpipes fitted in the rear diffuser and come with or without the control flaps.
The interior is treated to various aspects of tuning professionalism from the Germans. The AC Schnitzer aluminium Cover for i-Drive system controller or "Black Line" while the driver enjoys aluminium foot rest and pedals with AC Schnitzer floor mats, velours.