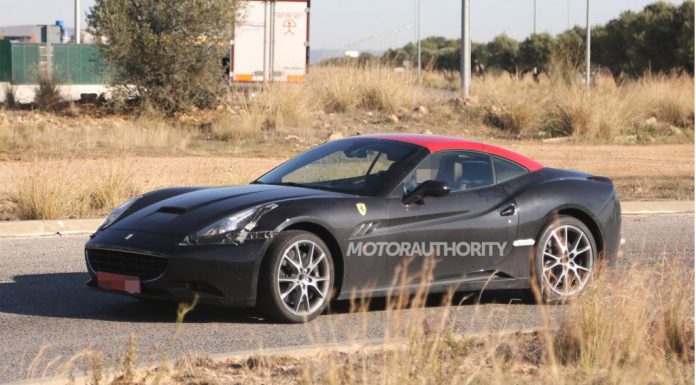 Ferrari has been testing a replacement to the Ferrari California for well over 12 months now. During that time, prototypes have spotted all around Europe with some featuring an additional air intake on the hood feeding a new turbocharged engine. Now, new images of the California have emerged along with a report that it will feature not a single turbocharger, but instead a twin-turbocharged powerplant.
More specifically, it is reported that the 2015 Ferrari California will feature a twin-turbo V8 engine expected to be smaller than 4000cc (4.0-liters). For those Maserati fanatics out there, this engine may ring a bell as the 2014 Quattroporte is available with the same twin-turbo V8. In the Maserati, it develops an impressive 530 hp and 479 lb-ft of torque.
However, when mounted in the next-generation Ferrari California, we can expect those power and torque figures to rise slightly to around 550 hp. While this engine is inevitably capable of developing more than say 550 hp, Ferrari wouldn't want to turn its GT-oriented sports car into a supercar which can beat the 570 hp 458 Italia at the drag strip!
With that being said, the 2015 California is also said to receive a KERS system delivering an additional 100 hp at the press of a button!
No release date is known, but it can't be too far away and could be sometime late next year!
[Via Motor Authority]