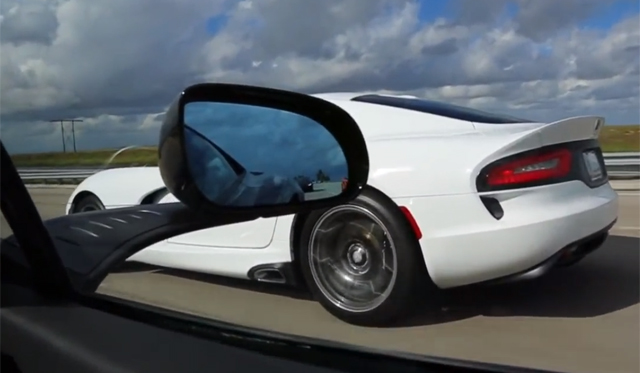 Late last month, we brought you an exciting video of a 2013 SRT Viper racing an awesome volcano orange 2012 McLaren 12C. Now we have the full version of that clip featuring not one but two 12Cs racing against the one white Viper during multiple high speed rolling drag races.
[youtube]http://www.youtube.com/watch?v=YgWRTpQDw-E[/youtube]
Throughout the selection of videos, one common result keeps occuring. Off the line, the 2013 SRT Viper pulls away slightly but as soon as the driver has to manually shift gears, the McLaren 12C sprints away into the distance!
These races just go to sure that horsepower isn't everything. As a matter of fact, the 2013 SRT Viper features a massive 8.4-liter V10 engine producing an impressive 640 hp. By comparison, the McLaren 12C features a twin-turbocharged 3.8-liter V8 engine delivering 616 hp!