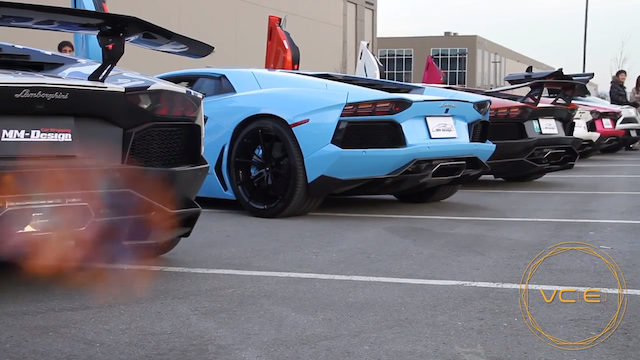 We do not need to tell you about the Lamborghini Aventador's flame splitting abilities! They certainly are unrivalled in the automotive industry and are just another outrageous feature of the V12 bull! Here is a video of not one but FIVE Aventador revving their engines and the sound is just remarkable! Enjoy!
[youtube]http://youtu.be/_2S-BGhWyHE[/youtube]
Just to refresh your memory, the Aventador features a new 6.5 liter V12 engine that produces 700hp at 8,250rpm and 690Nm at 5,500rpm. Using thrust mode – Lamborghini's version of launch control – allows you to reach 100km/h in less than three seconds, 2.9 to be precise and 0-200km/h is done in a staggering 8.9 seconds flat. In the right environment you will keep accelerating all the way up to 351km/h and pull 1.3 G when braking from 100-0km/h. Phenomenal figures indeed!